RUMOR CAMPAIGN: Barcia vs. Hickner Race Turns Dark, Nasty
July 6, 2016 8 Comments
By: Dave Rogers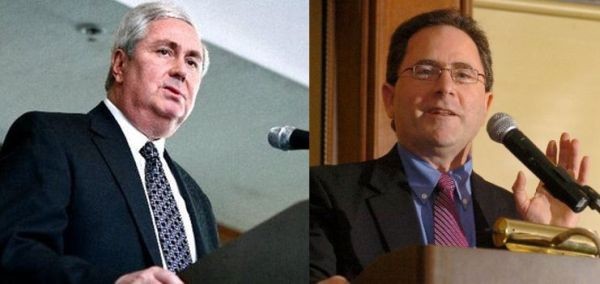 Jim Barcia (Left) and Tom Hickner (Right)
We have been watching the so-called "campaign" of former Congressman Jim Barcia who is seeking the Bay County Executive's post wondering what issues it will turn on.
However, no real issues have been raised by Mr. Barcia.
The county's finances are in the black; there is an adequate fund balance; no scandals have erupted in the last two decades.
Taxpayers should be happy, and for the most part seem to be content with the administration of county government.
We cannot help but ask: Why would we voters throw over somebody who is doing a great job in exchange for a politician with no executive experience whose last job was lobbyist and who left his last elected office ten years ago?
This didn't smell right when it started several months ago and the stench is beginning to be overwhelming.
The rumors rage from neighbor to neighbor: Hickner is sick; he's going to quit and appoint somebody else; he really doesn't run the county; he doesn't work hard enough, and on and on.
All the innuendo is belied by the verified fact that our government in Bay County is the envy of the state; the county is fiscally stable and management is competent and fair. There is little dissension among commissioners and most elected county officers. Those are facts.
The executive holds a Master of Business Administration degree and no doubt could work in any agency of local or state government anywhere in Michigan if he chose.
But in this crazy political charade, apparently the idea of who is most qualified for the job is not in the equation.
Or who could do the best job for the taxpayers of Bay County for the next four years.
The main campaign element appears to be rumor, innuendo and, now, deeply personal vicious attacks against the incumbent, Tom Hickner.
We decline to repeat the rumors here they are so obnoxious. But you may have heard some of it via the "grapevine." Nothing about this kind of smear campaign serves the interest of the public in Bay County.
A downstate "political consultant" who has lost a lawsuit brought by a candidate who claimed defamation is apparently now in the local picture -- far beneath the surface of course. This is a situation we warned about in this column when the race began last May.
Of course, there are local connivers with axes to grind against the executive and the county commission as well. Dare we ask if the invasion of a disreputable downstate political hitman is linked to in-house feuds? Whose main communication tactic is snarky drivel on Twitter?
We wrote in May: "Is Jim Barcia's campaign for Bay County Executive against his former friend and colleague Tom Hickner linked to an ongoing feud in the county building?
"And, is the management of Bay County now subject to Presidential-style political maneuvering and mud-slinging because of a redistricting dispute or the efforts of the county commission to control costs in county offices?
"Political insiders say that Barcia, who has recently been employed by lobbying firms in Washington and Lansing, is strongly supported by County Clerk Cynthia Luczak, who is embroiled in a lawsuit against Hickner and the county claiming prejudice against her and seeking a court order to have the county pay her legal fees."
Let's get this straight: the main public voice with complaints against the county is someone who wants the county to fund heavy-duty lawyer's fees in a fight against itself?
It seems to this columnist that the very crass, objectionable aspects of national politics have landed here, just as we warned several months ago.
###
---
"The BUZZ" - Read Feedback From Readers!
timboquinn Says: On July 08, 2016 at 04:33 PM

I agree completely with Dave Rogers. I worked for Tom Hickner for over seven years as Bay County's Personnel Director. In my career, it has been very rare to find someone with Tom's integrity, character, and business acumen.

Tom understands budgeting better than almost anyone -- he is a master at being both efficient and effective in the use of taxpayers' funds. The fact that Bay County has a balanced budget over 20 years despite tax revenues almost two million less than 2008 is proof enough.

Tom enjoys a good working relationship with the Board of Commissioners, a very responsible and business-like group. The County is blessed with this combination of leadership.

In all my years as Personnel Director, Tom has never tried to influence the choice of candidates for employment -- he has steadfastly insisted that the County hire the best person, and never has made a choice based on some political or personal reason.

Tom cares deeply about the people of Bay County and every constituent's problems and always treats everyone respectfully.

One of Tom's opponents is rumored to have made promises to some County employees that he will get them big raises, including cost of living allowances each year. First of all, all of the bargaining agreements expire this year and it will be another three years before wages can be renegotiated. More importantly, though, is that the County Executive has no power over raises -- the economic packages for labor contracts is decided exclusively by the Board of Commissioners for the current period and until the next set of negotiations when the current labor agreements expire on December 31, 2019.

None of Tom's opponents in this election have any significant administrative experience. It is far different to be a legislator, one who votes on laws but doesn't have to administer them, than to be in charge of over 300 employees in many different departments.

This County is well run, thanks to Tom, the Board of Commissioners, and the many professionals that make up the County's administration and the good, hardworking employees in the County's 12 unions. The County embraces a good working relationship with its unions, while still maintaining a balance with good sound fiduciary policy.

There are not many counties in Michigan which have fully funded pension plans. Bay County is 112% funded. There are not many counties with a rainy day fund of over 14 million dollars, with an operating budget of about 32 million a year.

Finally, I don't know about you, but I am already very tired of dirty politics. Tom has never stooped to that level even though, as Mr. Rogers points out, others have.

It would be a mistake to change leadership at the County Executive or Board of Commissioners at this time.
dgrip1 Says: On July 08, 2016 at 05:00 PM

I strongly disagree with all your comments about Jim Barcia I have nothing but the greatest respect for him I really do not like the campaign getting nasty so cool it Mr Rogers do not act like the Republican carnival
crgoulet Says: On July 08, 2016 at 09:21 PM

I find it quite ironic Dave that at the bottom of this "article" you self proclaim to be a "former editorial writer for The Bay City Times, and widely respected journalist / writer in and around Bay City". No credible journalist would write such a ridiculously one-sided piece, and publish it to a website with more advertisements than a cheap magazine. I'm not sure who you're trying to impress, but it failed.
mgaken9517 Says: On July 09, 2016 at 12:40 PM

Tom has done a good job and will get my vote.
behmlanderw Says: On July 10, 2016 at 11:53 PM

Mr Rogers, I think the question you should be asking is what has happened to the current administration that the Democratic party felt so strongly to see a change. Jim won't have entered the race if thing are fine. I have 31 years in county employement. I'm not a disgruntly employee, I believe I have a right to support Jim Barcia without having to worry about being fired. But that's out the door. Interview the blue/pink collared workers and allow them to use false names as not be targeted for speaking out.
behmlanderw Says: On July 12, 2016 at 12:14 AM

Mr Rogers, Thanks for the email. Wow, i must have wrote that all wrong. To me, if a seasoned politician is running againt an incumbent, under the Democratic ticket, then maybe you should be asking what has happened. If I were a journalist, I would dig deeper, ask more questions and not print a piece that is so one sided.
---

Dave Rogers




Dave Rogers is a former editorial writer for the Bay City Times and a widely read,
respected journalist/writer in and around Bay City.
(Contact Dave Via Email at carraroe@aol.com)

More from Dave Rogers
---
Send This Story to a Friend!
Letter to the editor
Link to this Story
Printer-Friendly Story View
---
--- Advertisments ---