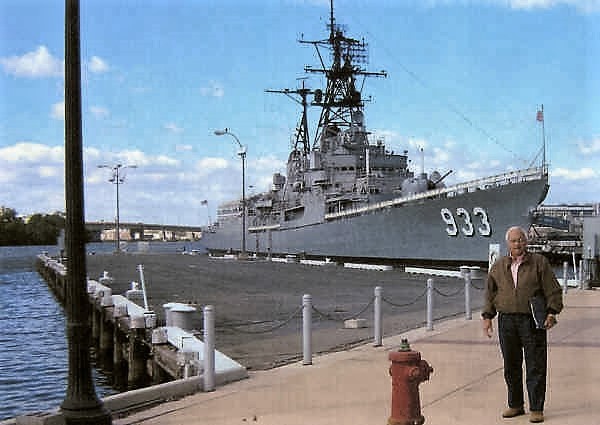 Dick Janke in pursuit of a destroyer museum ship for Bay City,
---
DICK JANKE: Persistence in Pursuit of Community Benefit Pays Off
July 10, 2016 3 Comments
By: Dave Rogers
Richard J. Janke, who died last week at age 80, has left his mark on Bay City.
Bless him for his persistence in honor of his family, community, and nation.
It took about 15 years, but he finally got the U.S. government to award a 418-foot destroyer, the USS Edson DD946, to the town that had built 170 warships during World War II.
He talked little about it, but his dedication to the project was in honor and memory of his brother, John Janke, a Navy man killed early in the war.
A tribute to the success of the Defoe Shipbuilding Company -- whose vessels helped win two world wars -- is imbued in the fact that the museum ship floats at the dock here. The Edson is notable since it brings many veteran volunteers as well as reverent visitors from everywhere in their personal displays of patriotism.
Mr. Janke was the first kid I met when I came to Bay City with my mother in 1940 from Chicago.
Since we lived less than a block away, I ended up spending lots of time at his house.
I never forgot Mrs. Janke and his father, Harry, interacting: "I hear you, Harry," still rings in my ears when I pass the old homestead on Fourth Street.
And I remember the Gold Star Mother banner she proudly hung in the window.
Dick and I were partners on a paper route for the Bay City Times. When you are responsible for delivering papers to 140 homes every day it has a way of imbuing efficiency and persistence in a young person.
Madison to Lincoln, Center to Third was our territory. We were among the favored few paper boys who picked up papers in the circulation room at the Times. We waited until the presses rolled and Freddie Lange or one of the other stalwarts of the mail room counted out our share and pushed the papers through the window. So we got our papers early and we could go on to other activities, like bowling at Alert Lanes or riding bikes through downtown.
It wasn't Dick's fault when we ran over Indian Joe's foot when we cut through the alcove at Peck's Drug Store in the Shearer Building. We were shocked when he dropped his coveted jug of whiskey wrapped in a paper bag. An old Army veteran who always wore his Eisenhower jacket, Joe was none too happy when the jug smashed on the sidewalk.
I never forgot how fast Dick had to pedal -- with me on the handlebars -- all the way through the alley two blocks to the Post Office -- so we could escape whatever punishment Joe had in mind for us. But it sure was a relief when we looked back and saw he was no longer running after us.
Dick was highly organized, in contrast to me, and he always gave me specific instructions about where to deliver the paper depending on the customer.
OK, make sure Mrs. Smith's paper is on the side porch; Mr. Tabor's goes in the mailbox; Mrs. Roth's on the side porch; Ward's paper needs to be under the mat on the front porch; Bird's goes inside the storm door; Mrs. Baily's goes in the milk holder; etc. Goof up just once and you heard about it when collection time came around. And the Christmas tip might not be as generous as otherwise.
Mr. Janke moved on to another job and "willed" me his route. It was a good one and usually brought $100 in tips at Christmas, if you had done a good job.
We went separate ways during adulthood and he achieved amazing success in the field of industrial sales while I was a newspaper writer, not always the most popular occupation.
His persistence in seeking the ship, with help from Mike Kegley and Jim Hollerback, was a major accomplishment and won my admiration. Plus that of many in town who appreciated what they had achieved.
It's appropriate, yet poignant, that Dick's funeral services are to be held aboard the Edson on Tuesday.
Anchor's Aweigh, Mr. Janke, you have done your country and your community proud! Farewell and bon voyage old friend.
###
---
"The BUZZ" - Read Feedback From Readers!
radams Says: On July 11, 2016 at 05:58 AM

DAVID, YOU DID YOUR OLD FRIEND PROUD. THANKS FOR THE WONDERFULL REMEMERANCE OF OUR FRIEND DICK...RA
keyboardkid4 Says: On July 11, 2016 at 10:50 AM

Great story, Dave, about a good citizen whose deeds I admired. I can almost see you two pedaling furiously in that alley I remember from my youth. RIP Dick Janke.
jahr2d2 Says: On July 13, 2016 at 04:29 AM

Great Story about a great man and my friend.
---

Dave Rogers




Dave Rogers is a former editorial writer for the Bay City Times and a widely read,
respected journalist/writer in and around Bay City.
(Contact Dave Via Email at carraroe@aol.com)

More from Dave Rogers
---
Send This Story to a Friend!
Letter to the editor
Link to this Story
Printer-Friendly Story View
---
--- Advertisments ---