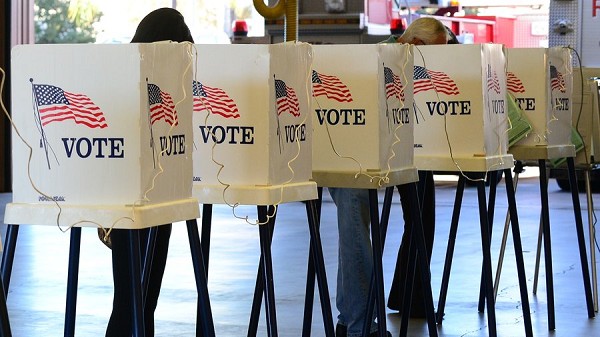 MISSING VOTES? Questions Arise Again on Scanner Machine Voting
In 2010 Problem was Crossover Votes, This Time ???
August 4, 2016 4 Comments
By: Dave Rogers
Bay County election results that leave voters scratching their heads need to be resolved.
Our American voting rights, and the results of that voting, considered sacred to all citizens and patriots, must be beyond reproach.
Either the electronic voting machines used here are faulty or up to 30 percent of voters who arrived at the polls in some jurisdictions failed to complete their votes for some candidates in key races.
Is it reasonable to conclude that up to 30 percent of people who signed in at their voting precincts just failed, or declined, to vote on the key races on the ballot? We find it hard to accept that.
This columnist called for a recount, a grand jury if necessary, to clarify the election anomalies that occurred in 2010 when nearly half the ballots cast were declared invalid by the county clerk.
Reports of invalid votes apparently caused by mistaken crossover voting in Hampton, Portsmouth and Monitor townships did not match up to those reported by the county clerk. While only a handful of invalid votes were reported by clerks in those townships, the county clerk reported hundreds were disqualified. Tests of voting machines were conducted and showed they were accurate.
So something appeared to be fishy, to this columnist and to some voters. However, neither individual voters nor columnists having legal standing to ask for a recount, the matter went unresolved.
No review was conducted, said Walt Wozniak, Bay County Canvassing Board chairman, "because nobody asked for a recount." No candidate, that is.
So the election in which about 10,000 votes, out of 20,000 cast, were discarded. However, the disqualifying aspect alleged about those votes was never independently verified. Only the county clerk's word was law in the 2010 election. Why? Because no candidate had the courage to challenge the obviously flawed "official" results.
State law says: "Recounts conducted under the supervision of county, city, township and village boards of canvassers are conducted using an electronic voting system unless one or more of certain conditions exist. These conditions are specified in statute and include such conditions as discrepancies in the number of ballots issued and voted, and discrepancies relating to the seals on ballot containers and transfer cases. Mich. Comp. Laws 168.171(1)."
A cursory review of voting results from the Aug. 2 primary election appears to meet the condition stated in the law as "discrepancies in the number of ballots issued and voted."
A large number of spoiled ballots were not reported in this election, however. Apparently, the same universe of the voting public that attempted crossover party voting in 2010 did not come to the polls in 2016. Or perhaps there now is a greater realization that in Michigan you cannot vote in both major party primaries.
We again call for a complete recount of all voting results, or a review of the voting system and procedures and, if necessary, a grand jury.
The key question is: how many voters signed the slips requesting a ballot? Their names are put into a book by the poll workers, so the number of people who arrived at the polls is absolutely verified. Then the voters mark their ballots which are fed through the optical scanning machine and supposedly "counted." And, how many of those voters votes actually were counted for a candidate? If the number doesn't match, we the citizens deserve to know why. Right?
Either the citizens with their names in the book decided not to vote for a candidate for a particular office (possible, but unlikely in contested races), or the machine did not electronically record the marks on their ballot. Seems sensible and logical. Not, however, in Bay County.
Perhaps the only way these questions about the Bay County voting system will only be resolved is if some candidates who feel aggrieved pony up the $25 per precinct necessary for a recount.
Let me know and I'll throw in the first $25 to recount at least one precinct and perhaps end the confusion, OK?
This continued blot on local democracy cannot be allowed to continue. It is a travesty and a real miscarriage of justice!
---
"The BUZZ" - Read Feedback From Readers!
sunbeamf Says: On August 05, 2016 at 08:28 AM

Dave, you're swimming upstream on this one. Seems to me the electorate is turned off by the whole election process. More and more the candidates seem to listen to those who have the most power--money--whatever and the rest of us are left behind. If you don't have rich backers or your own money you can't afford to run in the big races. If you serve in the smaller offices you lay yourself open to late night phone calls and disgruntled voters. Witness the fact that many races had no opposition and in some the major parties didn't even have candidtates!! The political system is dying and it's because the electorate feels that they don't matter. So if I don't matter and only those with money and contributions matter then why bother to vote??
sitamcompton Says: On August 08, 2016 at 12:01 PM

Its disgusting that every ballot that was cast may not be counted, even if not fully completed. I will gladly throw in $25 for a recount when there is a distortion of the number of voters entering the booths far out number the counted ballots. The figures you commented on should be posted along side all election results - if they are not already.
crgoulrt Says: On August 11, 2016 at 01:11 PM

Dave, you couldn't be serious when you wrote this "column", and I use that term loosely. For example you stated: "Neither individual voters nor columnists having legal standing to ask for a recount". You're either implying that columnists are not individual voters which makes no sense, or you as being a "columnist" are somehow held to be in higher standing than us lowly "individual voters". Either thought is not only ridiculous, it's incredibly arrogant and quite frankly laughable. You get a vote, and I get a vote. I could be a pilot, janitor, or Doctor, or a mailman, our votes count the same. Your "column" is filled with nothing more than bitterness, and assumptions, which are likely driven by the fact your candidate(s) did not win. If what you say were reality, the county would be investigated by the SOS. I'd also recommend keeping your money, a recount is a waste of time and money. For the record, the cost for a recount is $125 per precinct, not $25 as you reported. You need to get over the August election.

bballref1 Says: On August 11, 2016 at 02:02 PM

This is what you get when a community has "one-party" rule. In Bay County's case, it is under total democratic rule. No other party perspectives are heard.
---

Dave Rogers




Dave Rogers is a former editorial writer for the Bay City Times and a widely read,
respected journalist/writer in and around Bay City.
(Contact Dave Via Email at carraroe@aol.com)

More from Dave Rogers
---
Send This Story to a Friend!
Letter to the editor
Link to this Story
Printer-Friendly Story View
---
--- Advertisments ---