ANDY THE GREAT: When Bay City's Karpus Stunned the Pro Football World
August 13, 2016 1 Comments
By: Dave Rogers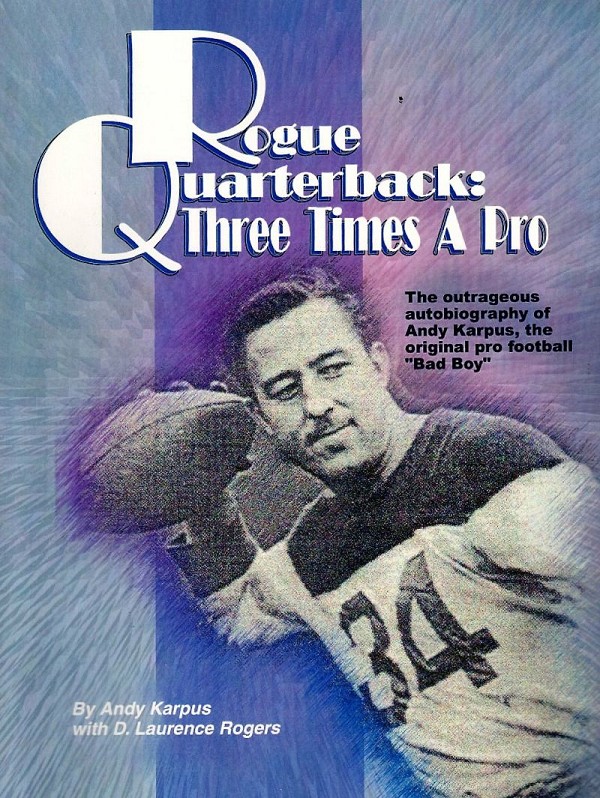 ANDY KARPUS
I called him Rogue Quarterback.
As the professional football teams begin to light up television and stadiums, a look back at perhaps the most flamboyant player in Bay City history is perhaps appropriate at this time.
He was not always the most polite, disciplined or socially correct, but Andrew W. Karpus could play with the best of the stars of the 1930s and 1940s.
Talent made up for a host of evils in Andy's case as he rampaged through 15 different teams and respective cities across America.
Born in 1914 in Grayling, Karpus made his impact on the sports world beginning with a 1931 starring performance that boosted the undefeated Bay City Central Wolves over a Chicago team for Coach Garland Nevitt. After moving to Detroit, a chance encounter with a University of Detroit fan led to a starring role for Coach Gus Dorais.
Andy dropped out of college in 1934 and the Detroit industrial league was the next stop where he was named the most valuable player, small solace on top of $10 a game. A contact with Potsy Clark, former Detroit Lions coach, landed Andy with the football New York Yankees in the American League.
His highlight year was 1937 when he led the Los Angeles Bulldogs to the American Football League championship and claimed the world title by going undefeated in eight games and beating the College All-Stars. He hobnobbed with movie celebrities including Bing Crosby who was a part owner of the Bulldogs.
How did a one-time sportswriter for the Bay City Central Centralia and the Michigan State News in the late 1950s encounter a player whose best days were two decades earlier?
Well, it may be hard to believe but I met Andy in the early 1980s as my newspaper career, and his life, were winding down. He hung out mostly at two noted saloons, Purser's at Third and Washington, and O'Hare's on Midland Street. But I didn't meet him in one of the many local dives.
Rather it was at the top of the stairs at the Bay City Times that Andy stumbled into my life. "Who's the greatest football player in Bay City history?" he hollered at Sports Editor Mike Sturm as he entered the newsroom with a drunken flourish.
Sturm's retort of "Bill Hewitt" was sure to enrage Andy, as he well knew. But the venerable sports sage would invariably dig into his pocket for a few bucks to keep Andy going on another leg of his "toot." Newspaper men often had a soft spot in their hearts for drunks and fools, and Sturm was no exception.
Like Hewitt, Andy's claim to gridiron fame was enhanced by the fact he never wore a helmet, although Hewitt finally was forced by the league to don the leather late in his career.
"The grizzled former pro quarterback, an ex-con down on his luck, to say the least, would head out to buy another bottle of wine to stay high," I wrote in the preface to the book Andy had scribbled on yellow legal sheets and thrust into my hands one day.
It took me 20 years and a spell recovering from a heart operation to finally peruse Andy's hand-written manuscript -- his life story that he had given me to publish if I could.
Above you see his action photo on the cover of the book I cobbled together long after his death in 1986. Actually, it would take a crew of filmmakers with a considerable budget to do justice to Andy' tumultuous sports career. But fat chance that would ever happen, although it would be a blockbuster if done right.
I called him "pro football's original bad boy" in the title of the book, and for good reason. If there has ever been a more notorious, rowdy, hell-raising, fearless character in pro football I would love to hear about him. Perhaps Bobby Layne or Alec Karras of the Detroit Lions might hold a candle to Andy, but you'd have to prove it to me.
Hardly anybody bought the book, that could be considered a sociological study of the Depression and the early days of professional sports. That never bothered me, especially after I nominated Andy for the Bay County Sports Hall of Fame, and he was elected, surprisingly in 1998.
During his time in Jackson Prison, Andy interacted with another legendary Bay City character, the infamous Steve Madaj, killer of lumber baron Franklin Parker at Center and Lincoln in 1916. Madaj served 41 years for that murder and was suspected of others but went straight and married a lifelong friend Violet Eichhorn upon his release in 1962. It was a great love story that also deserves a movie.
Here's my summary of Andy's tale so you can judge for yourself its heart-wrenching value: "Andy's story is a pathetic one, in many ways. Here is a kid with great athletic talent stumbling through the Great Depression, trying to make a buck playing ball. He drops out of college to keep working but is fired from every job he gets. He falls into a pattern of heavy drinking, the social epidemic of the age, and bounces from one team to another in the chaotic early days of pro football.
"Subject to the whims of desperate coaches and team owners, he nonetheless triumphs with the Los Angeles Bulldogs in 1937 when that team goes undefeated and claims the national title. He is the subject of a movie short hosted by celebrity columnist Louella Parsons. Unable to maintain a stable relationship with a woman in such an environment, Andy cycles downward with drink and successive stints with pro teams until he joins the Navy in World War II. His lifestyle pattern is hardly changed by the service and he ends up in many brigs until he is finally drummed out of the Navy.
"After the war, he attempts a comeback but the pro leagues have not yet matured and he gives up, despite throwing for two touchdowns in his last game with Providence in 1947. Then it's back on the bum, drinking and stealing, which gets him a term in Jackson Prison in Michigan for theft of a toaster from a hardware store in Bay City. Bitter and degraded, Andy ends up a street person in his old hometown, panhandling, living in public housing and drinking whenever and wherever he can until his death.
"Although he was obviously a sociopath, Andy had tender feelings for his family and persons in need. Down deep, he was not as tough as he let on."
###
---
"The BUZZ" - Read Feedback From Readers!
Anonymous says: On August 25, 2016 at 10:49 PM

Count me as one of the few who bought the book (at the Webster House in Bay City). I believe I read it in one sitting. Karpus's story is deserving of a wider audience, and I agree with Mr. Rogers that it could work well as a film, albeit one without a happy ending. There's a ready-made audience for stories about self-destructive anti-heroes who, though talented and not entirely lacking in humanity, simply cannot ignore the devils on their shoulders. Film or no film, I'm thankful that Mr. Rogers took the time to preserve Karpus's tragic tale for the handful of us fortunate enough to come across it.
---

Dave Rogers




Dave Rogers is a former editorial writer for the Bay City Times and a widely read,
respected journalist/writer in and around Bay City.
(Contact Dave Via Email at carraroe@aol.com)

More from Dave Rogers
---
Send This Story to a Friend!
Letter to the editor
Link to this Story
Printer-Friendly Story View
---
--- Advertisments ---