WOLVES HISTORIAN: Mike Laskowski Documents Central Football Records
1966 Graduate and Wife Virginia Haven't Missed Any Game in 48 Years
September 15, 2016 1 Comments
By: Dave Rogers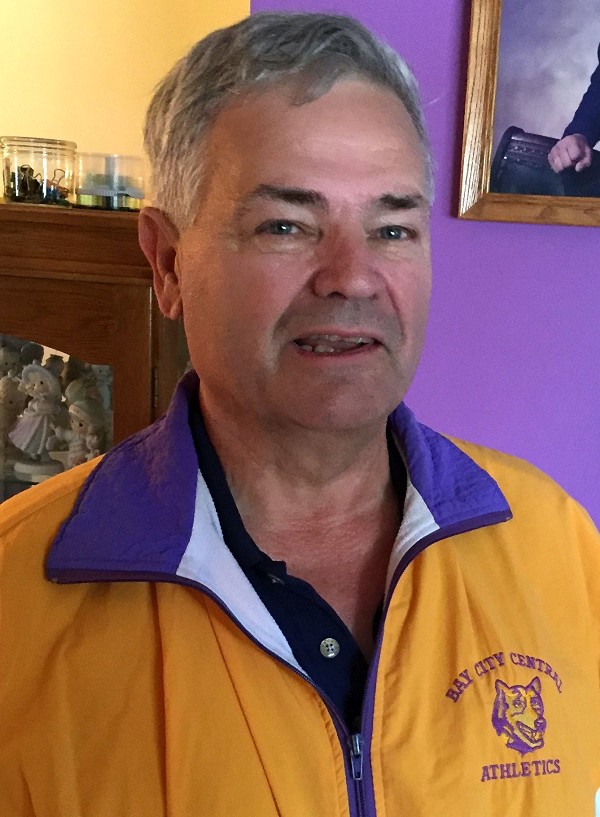 Mike Laskowski, wearing his Central High booster jacket, has in his hand the 48-page archive of 94 years of Central football.
How do we know that Central High has won 500 football games?
Because Super Booster Mike Laskowski has documented the Wolfpack gridiron exploits back to the beginning of the school in 1922.
Talk about unsung heroes behind the scenes!
Besides his meticulous record keeping, Laskowski and his wife Virginia have been at every game for the past 48 years -- since 1968. That includes away games, an almost unbelievable commitment by dedicated fans.
His wife, Ginny, who went to Pinconning High, has made her heroic contribution, too. She has been secretary of the Central Booster Club for 30 years.
Central's 500th win, the 13-12 victory in the first game this season against Swartz Creek was especially sweet since last year Central was forced to forfeit the Swartz Creek game for allegedly using an ineligible player, thereby losing the contest 1-0. "The kid was a transfer from Midland and Midland dragged their feet on the paperwork," Mike commented.
You can't miss the Laskowski home in the South End -- it has a foundation painted purple, and the purple and gold of the school colors are everywhere in the home.
Laskowski, a 1966 Central grad who retired after 38 years as a machinist at General Motors Bay City Powertrain, has refined his hobby into a valuable archive that includes every game the team has played, the score, the coach and the overall records.
It seems there is no state organization that compiles sports records of the individual schools.
That's why when Mike rang the gong earlier this season for the 500th Wolfpack victory, a great celebration of the school's students, staff and numerous alumni broke out.
The win moved Coach Morley Fraser, with 157 total wins, close to Engel whose record was 165-34-8, with state championships in 1958, 1965, 1967, 1969 and 1972, his last year.
Fraser, whose teams have lost 129 games, has a stellar record in the playoff era including a second place state ranking in 1994 with an 11-2 win-loss record. The Wolves beat nemesis Muskegon 21-20 in the pre-regionals, Grand Ledge 14-0 in the regionals and Westland John Glenn 13-12 in the semi-finals, before losing 0-17 to Troy in the state finals. Central made the playoffs again in 1995 but was eked out by Holt 12-14 in the pre-regionals. In the 1996 playoffs, his Wolves beat Lansing Sexton 26-0 before bowing out 28-34 to Rockford.
In 2001 the Wolves reached the playoffs but were eliminated by Grand Blanc 14-28. The following year Traverse City West was topped 32-21 but Muskegon prevailed 8-23 in the district championships. The Wolfpack beat Midland Dow 28-7 in the 2006 playoffs and followed with a 22-21 win over Midland to become district champs. Again Muskegon's Big Reds became the spoiler on a 14-41 count.
The Wolves notched a 49-35 victory over Heritage in the 2007 playoffs before falling to Midland 6-48 in the district championship round. The Wolves have had tough sledding in recent years, finally pulling out of the slide with a 5-4 mark in 2014. So far this year Central is 1-2 with the glow of the 500th win still hovering over iconic Engel Stadium and hopes high for No. 501 against Arthur Hill Friday night, billed as the "Red Wing/Red Out" game.
The detailed records include a listing of every team Central has played over the 94 years of its existence, including some very interesting matchups.
Over the years, Central has matched up well against some very good teams, including a 13-5 record against Alpena, 7-3-2 against Battle Creek Central, 27-13-1 vs. Handy, 30-11 against Bay City Western, 17-7 against Flint Northwestern, 15-8-1 vs. Flint Southwestern, 18-0 vs. Flint Southwestern Academy, 4-2 against Lansing Central/Sexton, 42-34-2 vs. Midland, 20-8-1 vs. Owosso, 31-15-1 against Pontiac Central, 7-1-1 vs. Port Huron, 50-31-4 vs. Saginaw High, 52-33-3 against Arthur Hill and 5-2 vs. Traverse City Central.
Notable victories include a landmark 1923 win 35-6 over highly regarded Toledo Libbey; the historic 1930 Thanksgiving victory over Chicago Bowen, with Andy Karpus and Al Baker starring; a 48-0 win over parochial league challenger Bay City St. Marys in 1932; an unbroken skein of nine wins over four different teams from Grand Rapids, Catholic Central, Creston, Forest Hills Central and Ottawa Hills, the last in 2002; Elmer Engel's first victory, after 20 straight losses under previous coaches, against Midland in 1950.
Former Central player Harold Dean, who put together a book about the Engel years, quoted the legendary coach: "Central was a graveyard for coaches; there was talent, but nobody cared about football." Engel got Principal Paul Briggs to replace the Red Grange era uniforms and equipment, drilled his charges incessantly on one or two plays and came away with a historic 12-6 win.
The winning Engel tradition didn't begin in earnest until the Midland game the following year, topping the Chemics 40-6 with 186-pound freshman fullback Pete Carras rolling 170 yards on 11 carries for 15.4 yards per carry. The six TD splurge was dubbed best in 12 years by Bay City Times Sports Editor Mike Sturm. A shaken Midland coach Stan Kuick was shocked, stating "I figured this was the best Midland team I've had in five or six years." The win pushed the Wolves to a No. 6 state ranking, first in years.
Engel's first year 13-21 loss to crosstown rival Handy under Coach John Thursby, was avenged in spades in 1951 with a 40-0 spanking of the Wildcats en route to the Wolves first winning season, 6-1-2, in over a decade, since Walter Olsen's squad notched a 7-2 season in 1939.
Among coaches' records over the years Olsen ended up 39-29-9 in nine years, ending in 1943; Harry Speelman, 1944-45, 4-11-1; Bob Reihsen, 1946, 5-3-1; Ron Isbell, 1947, 1-8; Leo Wisniewski, 1948-49, 0-18; Oarie Lemanski, 1973-82, 42-38 (no sports in 1978 due to millage defeats);
The first Central grid coach, Garland Nevitt, a full-blooded Delaware Indian from Oklahoma who had coached at Central Michigan Normal School (now CMU), recorded 78 wins vs. 30 losses and 12 ties in 13 years until mysteriously fired in 1935.
The Nevittmen, so-called long before the nickname Wolves came along in the 1940s, won 11 games and the state championship in 1928, steamrollering to 302 points to 25 for the opposition, the wins including a school record 92-6 stomping of Sebewaing.
The previous year, 1927, marked the game of football's introduction to one of the greatest professional players of all time, Bill Hewitt. However great he later became, Hewitt had an undistinguished one year career as a Nevitt-man and was an assistant to Coach Nevitt in 1928.
He then went on to be All-Big Ten and U-M MVP as an end and fullback for the Michigan Wolverines in 1931.
For Coach George Halas of the Chicago Bears, Hewitt played in the first ever NFL Championship Game against the New York Giants. Hewitt had only one reception for three yards in the game but was a part of what was described as "the greatest play of the game" and a play regarded by some writers as the most stunning of all time in the NFL. In the fourth quarter, with the Bears trailing by five, Hewitt received a pass from Bears quarterback Keith Molesworth, before lateraling to end Bill Karr, who then ran 19 yards for the final touchdown of the game. The Bears won the game 23-21.
He is an all-time all pro enshrined in the Pro Football Hall of Fame in Canton, Ohio.
###
---
"The BUZZ" - Read Feedback From Readers!
kentnj Says: On September 23, 2016 at 10:28 AM

Great article Dave. I was hoping you might have Mike's email so I can say hello to he and Ginny, I had the privilege to coach their son and teach their daughter many years ago. My years of coaching at Central and being around the athletic programs aloud me the insight to see the impact the Laskowski family had on not only the programs but more importantly the student athletes. I'd appreciate Mike"s/Ginny"s email so I can thank them personally. I would prefer these comments NOT to be added to this article. I enjoy reading your articles Dave and I hope this email find you in good health. Please give my best to OJ.
---

Dave Rogers




Dave Rogers is a former editorial writer for the Bay City Times and a widely read,
respected journalist/writer in and around Bay City.
(Contact Dave Via Email at carraroe@aol.com)

More from Dave Rogers
---
Send This Story to a Friend!
Letter to the editor
Link to this Story
Printer-Friendly Story View
---
--- Advertisments ---