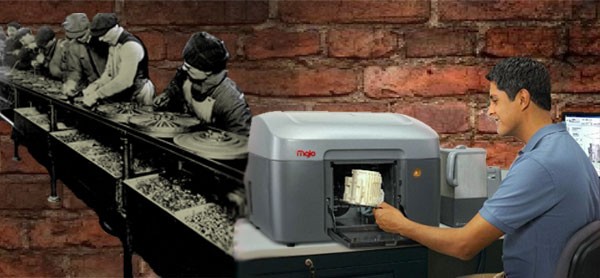 Sharp contrast in vocational trends is drawn between the 19th century hand workers, rear, and the operator of a 3-D printer, foreground.
---
PRETTY OLD HORSE: Vocational Education in Michigan Outdated, Underfunded
Misplaced Priorities, Corruption, Endangering State's Economic Future
September 23, 2016 1 Comments
By: Dave Rogers
(NOTE: This columnist, focusing recently on education, found that the State of Michigan's school aid fund has been invaded -- and is being looted -- by corporate school monsters like the British firm Pearson and K-12 Inc. through so-called "cyber academies." This column turns to vocational education, the scorned stepchild of schools that may, however, be the key to our economic future.)
"We're riding a pretty old horse," is how Dave Campbell of the Kalamazoo Regional Educational Service Agency (RESA) describes vocational education in Michigan.
Not only that, the old horse gets hardly any hay (in a financial sense) so he's pretty under-nourished.
Despite their industrial prowess, Saginaw and Midland counties have absolutely no funding for vocational education, according to The Bridge Magazine of the Center for Michigan.
We have pointed out in previous columns that corporate scams like online schooling, which by teacher reports in Education Week, have part-timers at $18,000 a year supervising up to 250 students -- bringing in nearly $2 million revenue to the company.
It's no wonder there is little money to fund local school districts! Meanwhile, the state is punishing local districts for "failures" that could be fixed with adequate funding. Topping it all off is the emergency manager program that turns over "failing" schools to private managers or for-profit firms -- or, wipes out the district entirely, like Inkster and Buena Vista, with Highland Park and Muskegon Heights tottering.
Of Michigan's 56 intermediate school districts, 23 have no tax support for vocational education, according to Ted Roelofs, writer for Bridge Magazine.
The Bay-Arenac Intermediate School District, that opened a spanking new "Skill Center" in the early 1970s (closing in on half a century ago), has a whopping $376 per student allocated to vocational education.
From all reports, the vocational education programs at the Bay Arenac Career Center are all overbooked and have waiting lists.
Vocational programs at Bay-Arenac are Arts & Communications, Business Management, Marketing & Technology, Health Technology/Medical Science, Human Services, Manufacturing & Industrial Technology, Natural Resources & Agriscience.
Roelofs wrote: "Michigan's ISD system is built around a paradigm that still governs education in this state: Local control. As thinking about the possibilities of vocational education became more ambitious, many intermediate districts managed to pass millages in the 1960s and 1970s to expand career programs. It is no accident that many of the best programs are tied to substantial tax support."
William Miller, executive director of the Michigan Intermediate School Districts Association, was more acerbic, describing the ISD vocational system as "flawed" and with "enormous funding inequities."
"There was a time when you didn't need more than a high school diploma to get a good job in Michigan," Miller said. "With the advance of technology, vocational programming has become more and more important."
Campbell, of the Kalamazoo RESA, suggests a look beyond our shores for evidence of what a robust vocational educational system can accomplish.
Roelofs cited an analysis by Harvard University that found 40 to 70 percent of students in countries like Germany, Finland, and Switzerland enrolls in vocational programs linked to rigorous employment apprenticeships. In Switzerland, students alternate between study in vocational schools, funded by the government, and apprentice jobs within private firms augmented by training programs offered by industry associations.
Last year, Switzerland was ranked the most competitive economy in the world for the sixth year in a row. Its unemployment rate in 2014 was about 3 percent.
Campbell said he views Michigan as still tethered to a vocational system rooted in an industrial economy, that has yet to catch up with demands of technology and global competition.
"We are about 30 years into a global economy and we are riding a pretty old horse. I can't think anything more important for the future of Michigan and the future of our kids. Kids need hope. They need to know if they work hard in school and get trained well, there's a job waiting for them."
A pithy comment was appended to Mr. Roelofs' article: "My father gave me this quote 48 years ago and I have lived by it every day. 'If a society does not respect its plumbers as well as its philosophers, neither its pipes nor its theories will ever hold water.' Think about it the next time you need someone in the trades. Wake up America. '
A comment signed only Michael P. stated: "The shift in wealth leaves us with a much smaller middle class. Elimination of unions which helped promote fair wages and much of the skilled training for manufacturing and skilled trades in the past and the consistant shift of the tax burden have all greatly contributed to the problems described in this article. The current regressive tax proposals will only exacerbate the problem."
The fact that more than 37,000 persons age 18-24 in the mid-Michigan area don't have a high school diploma and the fact that 40 percent of the unemployed aren't even looking for work because it pays so little, should alarm any citizen -- especially lawmakers.
Not only are Michigan's educational priorities backward, corporate criminals are profiting at the expense of local taxpayers while the governor and Legislature dither or concoct punitive policies, all of which endanger the state's economic future.
###
---
"The BUZZ" - Read Feedback From Readers!
reahlberg Says: On September 23, 2016 at 10:02 AM

Dave,

I disagree with William Miller's comment about the ISD Vocational Education system being flawed. We have a huge shortage of "Skilled" trades here in Michigan and not enough students in the pipeline to meet the demand. I don't have figures to back up my opinion but I do know several businesses that can't find young people willing to work in these skilled positions. Not every child has to go to college to get a job which to me is a flawed way of thinking and not every child is capable of earning a higher educational degree. It seems to me that our society is pushing kids into college and they are not able to find jobs here in Michigan in their chosen field of study (the pipeline is full) but there is a shortage of skilled workers for sure.
---

Dave Rogers




Dave Rogers is a former editorial writer for the Bay City Times and a widely read,
respected journalist/writer in and around Bay City.
(Contact Dave Via Email at carraroe@aol.com)

More from Dave Rogers
---
Send This Story to a Friend!
Letter to the editor
Link to this Story
Printer-Friendly Story View
---
--- Advertisments ---