DISNEYFICATION? Community Activist Condemns Wenonah Park Master Plan
"Why Can't A Park Just Be a Park? Retired Attorney Bob Sarow Asks
October 16, 2016 3 Comments
By: Dave Rogers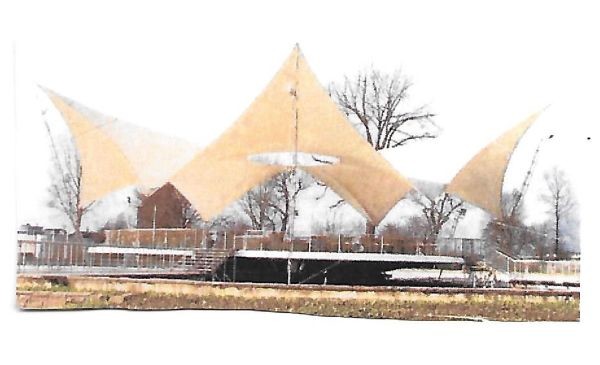 One of the design features proposed for a renovated Wenonah Park includes this structure.
Another potential donnybrook over suggestions to revise the Wenonah Park Master Plan to add public entertainment and other attractions like an ice skating rink looms for Nov. 9 at the Downtown Bay City meeting.
"Since being introduced last year, the seven-figure, multi-use pavilion that would double as an ice skating rink in the winter has drawn support from community leaders and criticism from residents concerned about preserving the park's green space," wrote Andrew Dodson of The Bay City Times.
"I'm very skeptical of consultant proposals in general," says Bob Sarow, a downtown resident who has been a vocal critic of plans to redo Wenonah Park.
Mr. Sarow is urging interested persons to attend a meeting of the Bay City Downtown Development Association board at 7:30 a.m. on Wednesday, Nov. 9, to voice their opinions on the proposal by OHM Consultants of Saginaw.
He commented in an e-mail to a group of interested persons:
"In this instance to justify OHM's $16,000 fee, I believe Ms.(Vanessa) Warren considered that she was obliged to suggest changes for changes sake and that she couldn't conclude that the current status of Wenonah Park is okay and merely requires repair and upgrade (not replacement) of its basic infrastructure."
"Taken altogether, I think her recommendations, if adopted, would result in Disneyfication of the park. Specifically, her suggestion is that a permanent tent-like structure is built over the open plaza area next to the Center Ave. park entrance and that an overhead pergola is erected above the north/south walkway through the park.
"Even though she suggested that a pavilion which incorporated an ice skating rink would be inappropriate, she indicated that an open sheet of artificial ice should be considered not only for skaters but also for curlers(!). I don't believe any athletic installations should be located in Wenonah Park; there are much more appropriate sites for them. Further, I oppose construction of any permanent buildings (lavatories, concession stand, etc.) within areas of the park which are now open."
On the other hand, Realtor Steve Lockey wrote: "As far as I'm concerned the 2016 Master Plan should be to finish the 2006 Master Plan. There are two phases left and it's a very cohesive improvement."
Sarow further comments: "Among the report's myriad recommendations is the removal of the Friendship Fountain and replacing it with a "water feature" similar to that recently installed in State Park. I don't necessarily object to that, but I do have a problem with her idea for the construction of an overhead pergola along the north-south walkway from 5th St. to the DoubleTree entrance.
"As indicated in Andrew Dodson's article, Ms. Warren asserts that the open central plaza east of the current fountain causes park visitors to become "uncomfortable" because it is so expansive. To resolve that serious problem OHM recommends construction over the present plaza area of a permanent year-round tent like structure which to me as illustrated in the attachment, looks like a circus tent.
"Why can't the park be merely a park with grass, trees, walkways and benches?" asked Mr. Sarow in his conclusion to his e-mail.
###
---
"The BUZZ" - Read Feedback From Readers!
sunbeamf Says: On October 17, 2016 at 01:36 PM

Finally a voice of reason!!! Why oh why do we hire consultants who then feel obligated to suggest changes where none is needed. Leave Wenonah Park as a PARK not a side show installation. Have they done any survey of the people in town and the county? I doubt it--a small group of people get a bright idea and then plunge ahead. Like Mr. Lockey said--what's wrong with the original plan?
Anonymous Says: On October 24, 2016 at 08:01 AM

The trend in America is growing in the downtowns, with more people living there it is a value for them to have green space. A place to connect to nature for mental and physical health. Central Park a prime example. We are growing our downtown, restoring and generating it. Let them have a place to go to . Use the park for periodic things to draw people for downtown business and financial support for the city. Ice skating is a great idea for the community and to get people out but put it in one of the parks that have more space . Freshen up Wenona park don't change it!
holcombr1 Says: On November 08, 2016 at 01:02 PM

We absolutely agree!
---

Dave Rogers




Dave Rogers is a former editorial writer for the Bay City Times and a widely read,
respected journalist/writer in and around Bay City.
(Contact Dave Via Email at carraroe@aol.com)

More from Dave Rogers
---
Send This Story to a Friend!
Letter to the editor
Link to this Story
Printer-Friendly Story View
---
--- Advertisments ---