KIDS & SCHOOL: No Way Education Gets Better With 6-7 Hours of TV Per Day
Secretary of Education May Have Little Influence on Funding
November 27, 2016 1 Comments
By: Dave Rogers
Americans weep and gnash their teeth regularly about schools, blaming the school building instead of the social environment, closing buildings, firing principals and teachers, wrecking districts.
All in the aim of improving education for children, a process that seems misguided, to say the least.
Lately, the Internet is filled with pictures of a man hammering away at the foundation of America, public schools. Pundits are climbing all over themselves condemning the potential new Education Secretary, Mrs. Betsy DeVos.
But little or no attention is paid to the home conditions in which kids fail to thrive because of unstable families, unemployment, crime in the streets, and mostly 6-7 hours a day of watching TV or playing video games.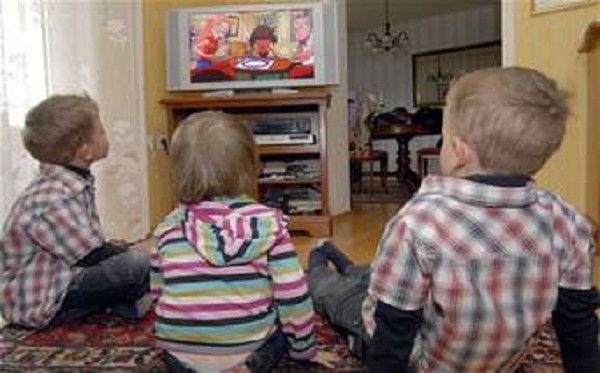 TV viewing among kids is at an eight-year high.
© MyBayCity.com
I am not alone in the opinion that our economy and our home lives have been hollowed out by globalization and technology. Small towns up North and in the Thumb are having trouble keeping their schools open, not because of funding but because of enrollment losses. The people just aren't there anymore because the jobs in outlying areas have gone overseas.
But we need to look more closely at the life of the organic child rather than the social and educational structures that may not be able to reverse developmental disabilities no matter how they are funded or run.
The University of Michigan Health System, citing recent studies, comments:
"TV viewing among kids is at an eight-year high. On average, children ages 2-5 spend 32 hours a week in front of a TV--watching television, DVDs, DVR and videos, and using a game console. Kids ages 6-11 spend about 28 hours a week in front of the TV. The vast majority of this viewing (97%) is on live TV."
There is plenty of evidence showing that upper-income children have higher achievement scores, ostensibly because they have more stable home environments and greater parental supervision, therefore being less distracted by tv and video games, etc.
As a former administrator in both public and private schools and colleges and a veteran of at least a dozen millage and bond campaigns, my experience tells me we need to keep an open mind about Mrs. DeVos.
It doesn't seem to matter to many people that inequity in school funding has been going on for many decades. As we in Bay City have seen, the state began diverting money from our local public schools as long ago as the 1960s. At that point, we still had six private parochial high schools and elementary schools, funded by parents' church contributions.
That was when the thriving industrial economy of the mid-Michigan area was providing substantial incomes to a greater share of people here than at present.
That was more than the 23 percent of Michigan children whose parents today are choosing charter schools and other non-public school programs.
In Bay City, we had to pass supplemental millages many times in the 1960s and 1970s to keep the doors of the schools open. We were "out of formula," state officials said, therefore we got no money to complete our budget.
Compensatory education was blamed for the money pouring into the big cities, stifling the programs in smaller towns like Bay City and putting more pressure on parents to ante up or lose their schools. Mainly the additional dollars made little difference; inner city schools still declined.
I could write a book on the campaigns some may remember, "Save Our Schools," "Keep Our Schools Open," "Save Our Kids," "Children First," were among the slogans we adopted. In the first campaign about 100 volunteers opened the old Oppenheim's store, raised $20,000 through the Chamber of Commerce, installed 100 telephones and called voters for 12 weeks. We won by a handful of votes, and did the same several years running.
We would do well to look at the big picture, not judge education based on the building or the political aspects of education, including fears of what the Secretary of Education might do.
Emily Lawler of M-Live wrote recently: "But it's unclear how much power a Secretary of Education would actually have over vouchers directly, said MSU Associate Professor of Education Policy Joshua Cowen. The U.S. Department of Education has historically used federal funding to incentivize state behavior, not taken over directly."
If the Secretary is able to increase funding for education anyway possible then she will have made a monumental improvement in our flawed and inequitable system.
Each time I visit Ireland I marvel at the "Irish Miracle" that occurred several decades ago when the Dail decided to jointly fund public and private schools with no discrimination based on church affiliation. Keep in mind this is a country with a long history of religious strife, Protestants killing Catholics and vice versa.
At the start of the 1990s, Ireland was a poor country by West European standards, with high poverty, unemployment, inflation, and low growth. The Irish economy expanded at an average rate of 9.4% between 1995 and 2000 following the institution of free education to the second level and then the third level, which produced a generation of well-educated entrepreneurs.
And in 1995, Ireland committed to providing free, competitive and vastly expanded college and university level education to its citizenry. The key word is "free," something the U.S. might consider given the high levels of debt our students must take on to become educated.
Ireland once considered the most Catholic country in the world, the Catholic Church runs more than 90 percent of all public schools. Other religious groups operate another 6 percent. Multi-denominational Educate Together schools are on the rise to provide needed diversity.
What resulted from the equitable education funding was termed "the Celtic Tiger," an explosion of economic innovation in a formerly moribund country. Ireland was the wonder of the world for a time, although that gloss has worn thin in recent years perhaps because it grew too fast, experienced a property "bubble," and was exploited by high rollers.
Perhaps we should support any educational initiative that gets results. After all, it's the children's future we are mainly concerned with, isn't it?
##@#
---
"The BUZZ" - Read Feedback From Readers!
vic.jaras Says: On December 15, 2016 at 11:49 PM

Nice job Dave. It is amazing how those who claim to "support" education want to leave out the teacher.

If you look at the problem with literacy, it is a classic case of corruption and misdirection.

Did you know that all of the thousands of curriculum packages sold by the big textbook companies have little value? A recent study of the effectiveness, showed only ONE program that worked to improve a child's reading and that was READING RECOVERY because it involves direct instruction by a teacher.

Yet, school administrators keep complaining about how expensive it is to have a teacher help a struggling student and waste millions of dollars a year looking for a "silver bullet" that will not require a teacher only to fail with taxpayer money again and again.


Education needs to be accountable to their community.

We have a worker shortage with 3 million available jobs but education is not interested in creating new curriculum to fill these jobs. Businesses would love to fund real education that can fill these jobs but for over 10 years nothing has changed.

There is no such thing as a child who cannot learn, but there are too many adults who do not care about kids making decisions that affect their futures and this has to change.


---

Dave Rogers




Dave Rogers is a former editorial writer for the Bay City Times and a widely read,
respected journalist/writer in and around Bay City.
(Contact Dave Via Email at carraroe@aol.com)

More from Dave Rogers
---
Send This Story to a Friend!
Letter to the editor
Link to this Story
Printer-Friendly Story View
---
--- Advertisments ---