Republicans Seem More Intent on Regaining Power Than in National Progress
Where is the Spirit of National Unity Necessary to Mend Country's Ills?
November 9, 2008 3 Comments
By: Dave Rogers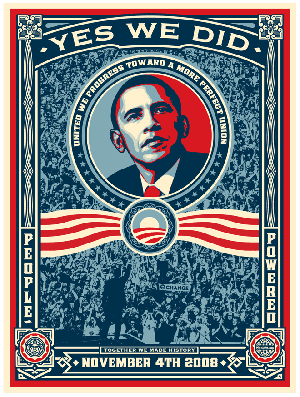 Nearly 3 million of these free stickers paying tribute to the coming Obama Presidency have already been given out by MoveOn.org.
Talk about entitlement programs!
Most of the buzz from the Republican Party in the aftermath of the Democratic electoral victory seems to be how quickly they can regain power, and what means will be employed to do so.
The attitude seems to be that the Republicans really were entitled to be in power forever, an idea Karl Rove floated regarding a perpetual conservative regime.
But we must respectfully point out that a political regime is only as good as their performance, and the results of the past eight years have told that tale quite adequately.
"Who Can Defeat Obama?" screamed one headline on AOL.com. Good Lord, the man has only just been elected and they are calling for his head. No one seems willing to give alternative ideas, or a President not named Bush, a chance.
Lost in the hyper-partisan rhetoric is the idea of national unity, of cooperation to restore a devastated economy, of reasonable discourse across party lines.
The charge, of course, is led by Rush Limbaugh and other shrill partisan hacks who make a living the old fashioned way -- by attacking everyone they don't agree with.
A little of that kind of talk goes a long way, especially when the president-elect is being guarded by Secret Service agents who see fit to brandish machine guns as they drive him to the gym for a workout. No need to inflame the atmosphere against the man on whom many rest their hopes for a return to prosperity and peace.
We thought the country voted on Nov. 4 for a new direction, for a new unity, for common cause to regain our national balance.
Are the Republicans, and the conservatives, emulating the Confederates who, when Abraham Lincoln was elected in 1860, seceded and launched military action?
The old saying about power corrupting, etc., was never more truly demonstrated in the last eight years.
We in this corner yearn for the World War II days, and post war, when it seemed there was a national spirit of cooperation to produce the goods the world would buy, and thereby build our society.
Don't we owe it to our young people, ages 18-29, who voted 2-1 for the Democratic ticket, to give the nation a chance to succeed? Can't we restrain our political rhetoric just slightly, wait at least a year or two to begin the campaign for 2012?
If a President Obama is going to be a bust, we will certainly know by 2010, won't we? And that will be soon enough to begin to think about a change.
If we are going to be in a state of perpetual political conflict we will be following the destructive path of banana republics like the ones I studied at Michigan State in the 1950s. Some regimes lasted only a day or so, and some countries had dozens of leaders, one after the other, because none of the factions could ever agree.
Conservatives say they will be monitoring the performance of the Barack Obama administration. That is certainly a commendable idea and in line with American principles.
However, they are already trying to count out the new President, marginalize him, destroy any bipartisan attempts, and therefore launching a destructive program that will only hurt the country -- all of us.###
---
"The BUZZ" - Read Feedback From Readers!
malbon37 Says: On November 10, 2008 at 09:15 PM

Good evening David,
Although your premise is correct in all Americans supporting the rightfully elected President, your article should have been written in 2001 when the leaders and members of the Democratic Party and National Press, by their shameful actions, refused to recognize President George W. Bush as the rightful Legal President of the United States. I cannot remember any President, in modern times, being treated so hatefully by the opposition party and the National Press as was President Bush. Although not agreeing with every action taken by President Bush, he did a very good job on many issues of which were approved by me. He was a good an honest man unlike his predecessor egomaniac and morally corrupt President William Clinton. It is my belief the job makes the man and hopefully President Elect Barack Obama will perform up to the expectations most people have of the leader of the greatest country in the world.
Joseph Malenfant
ebmspang Says: On November 10, 2008 at 11:01 PM

Sheeple! Everyone's asleep at the wheel! Republicrats really won the election. One party system thrives! You will see!
nothanks Says: On November 15, 2008 at 10:32 PM

wheres the report on buyouts at the bay city times?!
---

Dave Rogers




Dave Rogers is a former editorial writer for the Bay City Times and a widely read,
respected journalist/writer in and around Bay City.
(Contact Dave Via Email at carraroe@aol.com)

More from Dave Rogers
---
Send This Story to a Friend!
Letter to the editor
Link to this Story
Printer-Friendly Story View
---
--- Advertisments ---