"Pure Michigan" Ad Campaign Harkens Back to Leonard Gas TV 1956-70
Exhibit at Clarke Historical Library at CMU Recalls Mort Neff Promotion
June 16, 2010 1 Comments
By: Dave Rogers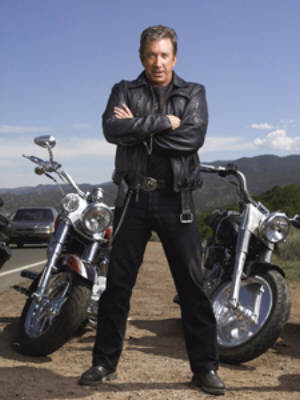 Michigan actor Tim Allen, voice of the "Pure Michigan" ads.
The much-heralded "Pure Michigan" national ad campaign had a forerunner -- the Leonard Gas "Michigan Outdoors" with Mort Neff that started in 1956.
The Clarke Historical Library at Central Michigan University, Mt. Pleasant, has an exhibit "Going Places in Michigan with Leonard Gas" running through August.
"Beginning in 1956 Leonard undertook a systematic and statewide campaign to promote tourism," notes the Clarke's current newsletter, adding: "For fourteen years Leonard's efforts made the company name mean 'Michigan Outdoors' in ways that are nearly inconceivable today."
The library compares the "Michigan Outdoors" campaign to today's "Pure Michigan" promotion. "This campaign's roots and its essence can be found in the tourism promotions sponsored by Leonard more than a half-century ago."
The "Pure Michigan" campaign was resumed May 7 with actor Tim Allen, a Michigan native, doing the voice-over audio.
Governor Jennifer M. Granholm said in her weekly radio address that the Pure Michigan advertising campaign is vital to boosting tourism in the state and creating jobs. Pure Michigan television ads began running nationally on May 7 and will continue through early July.
The Pure Michigan promotion budget in 2009 was $30 million; the current appropriation for 2010 is $5.4 million, an 82 percent reduction and the state's smallest tourism promotion budget since 1995.
Last July, Forbes Magazine named Pure Michigan one of the 10 best tourism marketing campaigns of all time. Winter Pure Michigan advertising was canceled earlier in the year.
"Tourism is one of the sectors we've targeted to help diversify Michigan's economy and create jobs," Granholm said. "And Pure Michigan has been tremendously successful in generating more visitors to our state. Last year, the national and regional Pure Michigan advertising campaigns motivated two million trips to Michigan from out-of-state. Those visitors spent more than $500 million at Michigan businesses."
The Pure Michigan campaign more than pays for itself, Granholm said.
Leonard Gas was the funding source for the statewide ad campaign from 1956 through 1970. However, Leonard found it could not compete with the major national oil companies. After Total Petroleum bought Leonard in 1970, sponsorship of "Michigan Outdoors" was ended but other sponsors kept Neff on the air until 1977. However, the show continues today on public television under sponsorship of the Michigan United Conservation Clubs under the name "Michigan Out-Of-Doors."
Leonard Gas not only identified places to visit in Michigan, it partnered with Neff to stage activities for outdoor folk. One such effort was the "Leonard Outdoor Club of Michigan," organized in 1958. Other favorites of Neff included the "Carp Carnival" in Monroe and "Tip-Up-Town" on the ice of Houghton Lake each winter.
Other popular outings were the Caberfae ski festival and the Greater Michigan Boat Show in Detroit.
"Last summer, visitors from outside the Great Lakes region who were inspired by the campaign to come to Michigan paid $17.5 million in state taxes," the governor said. "That's a return on investment of $2.23 for every dollar in advertising."
Granholm noted that this year's funding for Pure Michigan is about half of last year's, because the Legislature could not agree on a permanent revenue source for the campaign.
"We need to find a stable source of funding to keep the campaign going," Granholm said. "And that's because Pure Michigan is not only great for tourism, it's also great for Michigan's image around the country. Pure Michigan gives our state a new and different face, one I'm sure is a surprise to millions of Americans who've never been to Michigan and know little about us."
"The Pure Michigan campaign has brought new visitors to our state to bask in its beauty and marvel at its magnificence," Granholm said. "It's also inspired and uplifted the people who call Michigan home, renewing faith in our great state and our future. That's the power of Pure Michigan."
---
"The BUZZ" - Read Feedback From Readers!
rustycannon1 Says: On June 22, 2010 at 10:28 PM

I have watched the Pure Michigan ads and found them to be very appealing and well done. I am proud to be a native Michiganian who has enjoyed many of the pleasures Michigan outdoors has to offer. I hope the ad campaign continues to draw tourists to our state for many years to come. However, I have a few questions: How does the state derive the statistics to measure the success of the campaign? Who does the math? How reliable are the numbers? Bill Cannon
---

Dave Rogers




Dave Rogers is a former editorial writer for the Bay City Times and a widely read,
respected journalist/writer in and around Bay City.
(Contact Dave Via Email at carraroe@aol.com)

More from Dave Rogers
---
Send This Story to a Friend!
Letter to the editor
Link to this Story
Printer-Friendly Story View
---
--- Advertisments ---