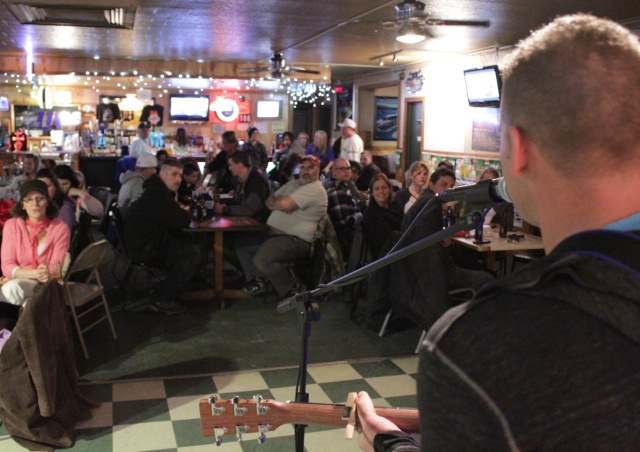 ALL EYES ON JOEY -- Joey Atchinson has the crowd's attention at Willew on Wednesday during Michigan Idol competition. (MyBayCity Photo by Sean Connelly)
---
Bad Weather Can't Stop Hot IDOL Competition at WILLEW
Only 3 Weeks To Go
March 3, 2012 1 Comments
By: Sean Connelly
Week seven (7) of Michigan Idol Season III continued on from last week's great success. The contestants all brought their 'A' games once again, entertaining the crowd and impressing the judges.
"Everyone keeps bringing it every week," Josh Sharrow, DJ for MyBayCity.com, exclaimed after Morgan Hawkins closed out the night with Lady Gaga's Telephone.
While there were plenty of people in attendance to see the incredible performances, the amount of contestants themselves had gone down a bit due to the inclement weather. "The roads are icy out there," Michigan Idol attendee Heather Emmons said, "I usually don't miss Jesse (Fisher)'s performance, but even I was tempted to stay home tonight."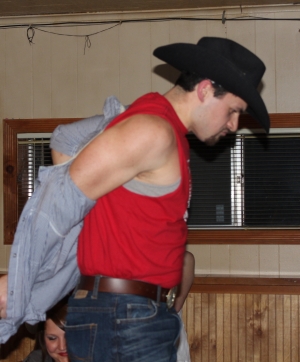 Travis Paten
Getting his "Monster" On.
The ice didn't slow down Jesse Fisher's performance, however, as he performed Master Exploder by Tenacious D and did his best to dominate the competition with his voice. "The crowd loves it when I do Tenacious D," Fisher stated, "When I did Tribute (also by Tenacious D), I got a standing ovation from those who appreciate the music." The Tenacious D songs tend to bring out the best in Jesse's stage presence, one of the areas the judges pay attention to for points each week.
No one is better in stage presence this season than Travis Patten. Paten once again brought the crowd to their feet as he got up on chairs and took off his shirt to reveal a sleeveless "USA" undershirt. "Seven weeks ago you were just some guy off the street, now you're a freakin' monster!" raved judge OJ Cunningham about Paten's performance.
Cunningham, MyBayCity publisher and judge for Idol, had praise for many of the contestants including that gem for Travis Patten after his performance of Jason Aldean's Hick Town. After the performance, Cunningham used Twitter to say that he had given five (5) perfect scores of 60 during the night's performances.
Contestants are judged each week on specific criteria like Appearance, Stage Presence, and Vocals, with their top five (5) combined scores totaled up at the end of the season to determine the winner. Missing a week here or there isn't too detrimental to their chances of winning, but the more they attend, the better chances they have of winning.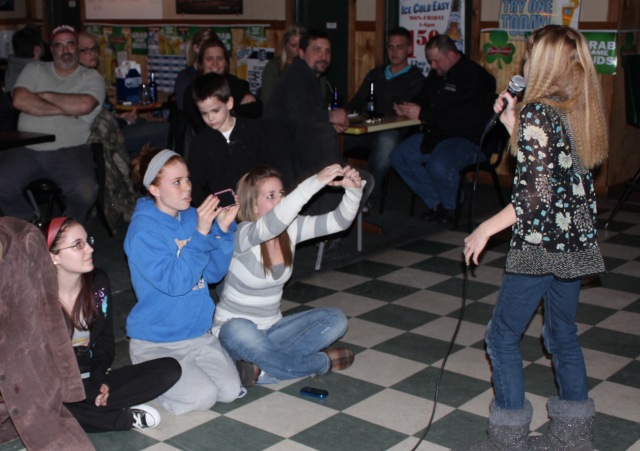 Morgan Hawkins sings for the crowd and the judges as her "posse" listens closely and tapes the show.
(MyBayCity Photo by Sean Connelly)
Michigan Idol is a 10 (ten) week competition that runs through March 21st, 2012 every Wednesday night at the Willew in Bay City. Warm ups start at 7PM, with the actual competition starting around 8PM. The grand prize for this season is a 50+ inch flat screen TV, provided by Millar's TV and Appliance, and an XBOX 360 with four games, provided by Game On of Bay City.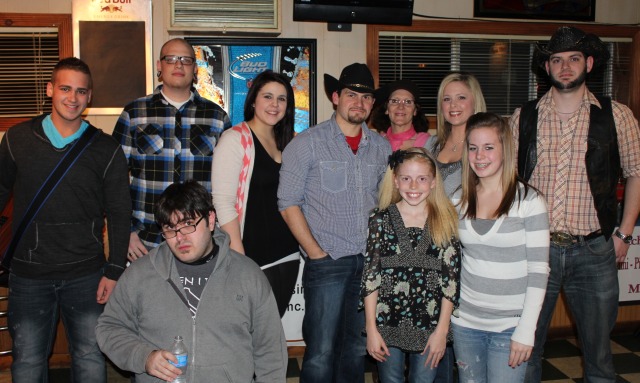 GROUP SHO -- (L/R) Front - Jesse Fisher, Morgan Hawkins and Raelyn Hawkins. (Back Row) Joey Atchinson, Adam Simmons, Natasha Ehlert, Travis Paten, Betty Martinez, Stephanie Petrimoulx and Fred Waibel.
(MyBayCity Photo by Sean Connelly)

Betty Martinez, Deb Schmeider, Fred Waibel, Jesse Fisher, Joey Atchinson and Adam Simmons
(MyBayCity Photo by Sean Connelly)

Stephanie Petrimoulx, Jordan Lindow, Morgan Hawkins, Natasha Ehlert, Raelyn Hawkins and Travis Paten
(MyBayCity Photo by Sean Connelly)
The Michigan Idol Show at WILLEW is Sponsored by:



---
"The BUZZ" - Read Feedback From Readers!
GreenDog Has Spoken says: On March 10, 2012 at 10:57 AM

This is a great night out and a great group of young singers. Nice show you got here, Scott. (I'll be back next Wednesday)
---
---
Send This Story to a Friend!
Letter to the editor
Link to this Story
Printer-Friendly Story View
---
--- Advertisments ---