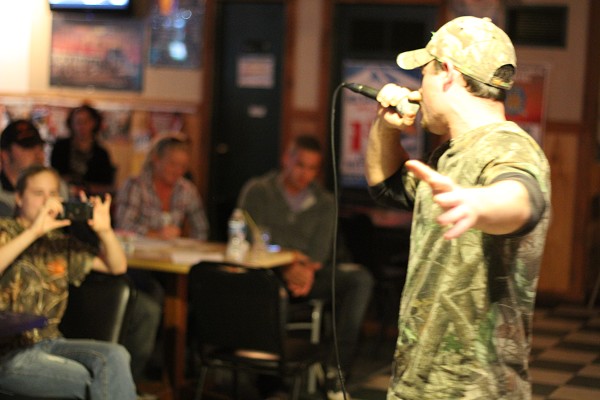 Travis Paten puts on a show for the crowd at the Willew!
---
Week Six of Season Four at Willew Brings Fierce Competition!
May 20, 2012 1 Comments
By: Sean Connelly
Season 4 Week 6 of Michigan Idol at the Willew Lounge in Bay City is in the books and the competition has never been more fierce.
Newcomer to the competition, Mr. Dodd, issued a challenge right away before even starting his warm up, calling out Season 4 favorite Travis Paten, "Travis, you're going down, buddy!" Dodd certainly backed up his challenge while performing, receiving his marks from the judges.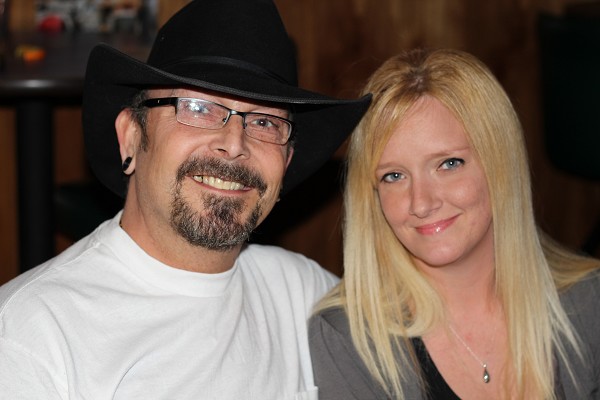 Mr. Dodd and his wife, Danel Dodd.
Photo by Sean Connelly
© MyBayCity.com
The two competitors have a history together, competing at another local singing competition. "We've gone at it before at Westown," said Dodd, "but I like this competition more. I like that it's a cumulative score, and the better atmosphere."
The atmosphere is a welcoming one, as newcomer Janie Dore found out when the judges were all compliments after her performance very first impressive performance. "Travis, you better watch out!" said Idol Judge Joey Atchinson, "You've got some pretty good competition!"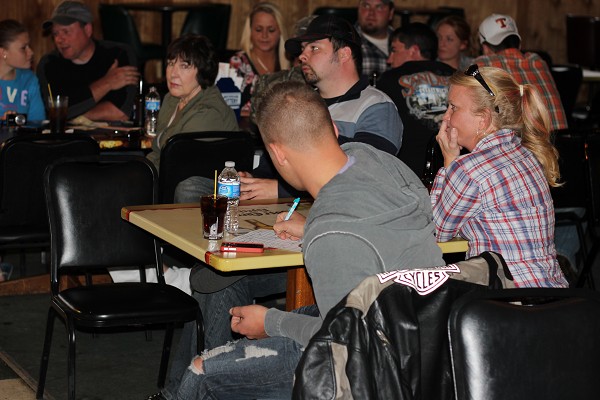 The judges taking note of Paten's performance.
Photo by Sean Connelly
© MyBayCity.com
Dore, a regular spectator of the competition as well, is a part of the large group of people that comes out every week in support of Travis Paten, a group that he feels really helps him succeed at Michigan Idol. "They help me so much," said Paten, "it feels great to know that I've got their support, even if I mess up." Paten went on, expressing his gratitude, "It just helps me feel so much more comfortable on stage."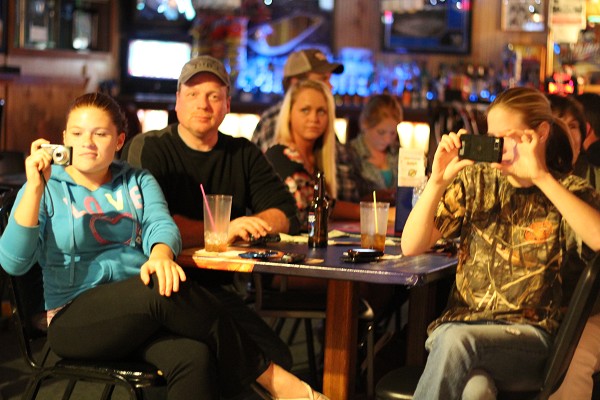 Travis Paten's usual crew.
Photo by Sean Connelly
© MyBayCity.com
Not to be forgotten, Michigan Idol veteran Jesse Fisher wants everyone to know he's not to be taken lightly. "Everyone's giving extra attention to Travis tonight," said Fisher, "they better not forget about me." Fisher recognizes and appreciates Travis' talent, but also highly regards his own, "They won't forget about me when I'm the one riding that scooter home."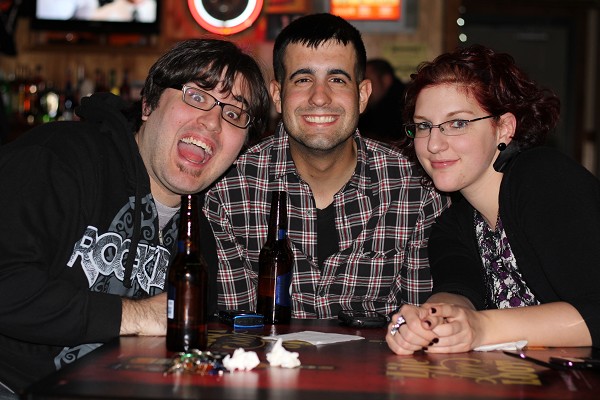 (L/R) Contestant Jesse Fisher, his friend AJ, and former guest Idol Judge Heather Emmons.
Photo by Sean Connelly
© MyBayCity.com
The scooter, a 50cc Schwinn Hope Scooter, is the grand prize this season and is provided by Steven's Cycle Sales of Bay City. In order to win the grand prize, contestants must be present in five of the 10 weeks of the competition. All qualifying competitors will have their top five scores combined to determine the winner on the final night, June 13th, 2012.
Michigan Idol Season 4 takes place every Wednesday night at the Willew Lounge in Bay City, MI. Warm-ups start at 7PM with the competition getting underway around 8PM.

(L/R) Debbie Kirkbride, Chuck Kirkbride, Debi Schmeider, Jesse Fisher, Janie Dore, and Travis Paten.
Photo by Sean Connelly
© MyBayCity.com

Mr. Dodd
Photo by Sean Connelly
© MyBayCity.com
The Michigan Idol Show at WILLEW is Sponsored by:



---
---
---
Send This Story to a Friend!
Letter to the editor
Link to this Story
Printer-Friendly Story View
---
--- Advertisments ---