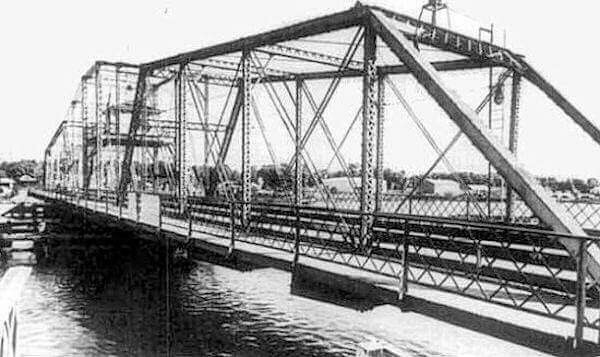 Old Belinda Street Bridge was replaced by Independence Bridge in 1976, financed by a countywide $9 million bond issue.
---
BRIDGE CLOSING? Independence is Vital, Irreplaceable Truck Route
Any Millage Request Needs to Include Incentives for Townships
August 19, 2016 1 Comments
By: Dave Rogers
There was a reason why truck drivers in the early 1970s campaigned for the construction of Independence Bridge with bumper stickers on their vehicles stating "I'm a Bridgebuilder!"
Unless rickety Belinda Bridge was replaced, trucks headed for the Thumb would continue to have to go downtown and cross the river over Veterans Bridge. That was not only out of the way, and highly time-consuming, it was way too much stress on the infrastructure of the city street system.
Many trucks coming from the North, or from the heavily industrialized Northeast quadrant of the city and Bangor Township, were headed for the Thumb via Center Avenue (M-25) or Tuscola Road (M-15). Many miles and much frustration could be saved with a new bridge at Belinda, a name that has disappeared into history, replaced by Harry S. Truman Parkway.
The ancient Third Street Bridge, opened in 1890, was not sound enough, structurally, to handle heavy trucks. And Lafayette Bridge, built in 1933, was too far out of the way to be a viable alternative.
And, then, making matters much worse, the Third Street Bridge fell into the river June 18, 1976. Thankfully, Independence Bridge was ready for its opening later that year.
Today Independence Bridge carries about 40 percent more traffic than Liberty Bridge, nearly 24,000 vehicles per day over Independence compared with about 17,000 per day for Liberty.
That's why closing Independence Bridge, as has been suggested, would set Bay City back nearly 50 years in terms of industrial and regular traffic movement, damage to streets from heavy trucks, etc.
It also would vastly over-stress other bridges and streets that would have to handle higher volumes of trucks and commercial vehicles.
The city would undoubtedly be a quagmire of traffic gridlock, especially when Lafayette Bridge is closed for 18 months for repairs beginning in 2020.
Lafayette and Veterans Bridge, built in 1964, are owned by the Michigan Department of Transportation (MDOT) while Liberty and Independence bridges are city owned.
City Manager Rick Finn should be supported in his position that the state should own all four bridges since much of the traffic flow through the city continues on state trunklines headed for other locations.
Independence Bridge was built in the 1970s mainly because it was vital to truck traffic transiting from the Wilder Road/Patterson area to the Thumb via Center Avenue and Trumbull/Tuscola.
And also because the old Belinda Bridge was crumbling and was becoming dangerous for all vehicles.
I remember working on the campaign with the late Jim McGowan, WNEM-TV 5 newsman, taking film footage of bolts that had rusted and dropped out on the footings under the bridge. When those images were seen by voters, the case for replacement of the bridge was solidified.
To balance the countywide $9 million bond proposal, it included replacement of nine bridges over streams in the townships. That made the plan a countywide bridge project, not just one for the Independence Bridge in the City of Bay City.
Why the name "Independence Bridge?"
Of course, it was the bicentennial of our nation. What could be more appropriate?
If city officials determine that a millage is needed to pay ongoing costs of operating the bridges, they need to package a balanced countywide proposal to offer incentives for township voters to approve, much like was done in the 1970s for the bridge that replaced Belinda, Independence Bridge.
Hard-charging politicians who have offered big promises for economic development (you know who I'm talking about) could make their bones by promoting passage of such a plan and seeing it through to reality.
It's easy to forget that we once had a bridge at Cass Avenue also. If a span at that location, from Cass to Hotchkiss, could be afforded, the development of the South End and Frankenlust Township (moribund for decades) would be given new impetus. If local officials seek an economic development project, that would be one that would pay big dividends. Closing any of our bridges should be off the table.
###
---
"The BUZZ" - Read Feedback From Readers!
jahr2d2 Says: On August 22, 2016 at 02:56 AM

The closing of Independence Bridge would make the mooring of the USS Edson obsolete. The ship would be pigeon holed on the Saginaw River.

This would take away a through route of seeing the Saginaw Valley Naval Ship Museum Ship from the bridge. It also would make for more complicated GPS directions to locate the ship.

If the City of Bay City and the State of Michigan close the bridge they should pay for the docking of the USS Edson to Downtown Bay City. The ship is becoming the number one tourist attraction in Bay City and in Michigan.
---

Dave Rogers




Dave Rogers is a former editorial writer for the Bay City Times and a widely read,
respected journalist/writer in and around Bay City.
(Contact Dave Via Email at carraroe@aol.com)

More from Dave Rogers
---
Send This Story to a Friend!
Letter to the editor
Link to this Story
Printer-Friendly Story View
---
--- Advertisments ---