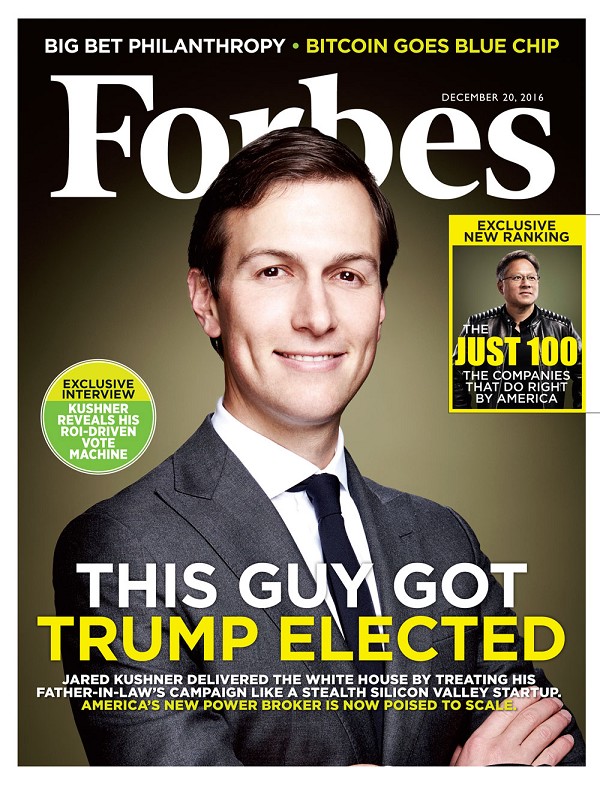 Jared Kushner, Donald Trump's 35-year-old son-in-law, who is said to have commented: "We Money-balled the election."
---
WE MONEYBALLED IT: Back Room Spinmeister Pulled Voter Strings, Says Forbes
December 12, 2016 1 Comments
By: Dave Rogers
We all are just pawns in the schemes of marketers, so did that just happen big time in the Presidential election?
Apparently so!
Forbes Magazine is out soon (Dec. 20 issue) with a stunning piece about Jared Kushner, Donald Trump's 35-year-old son-in-law, who is said to have commented: "We Money-balled the election."
According to the Forbes article, the real brains behind Trump's election was Kushner, Harvard Law graduate and real estate magnate who is married to Ivanka Trump. His grinning face appears larger than life on the cover of Forbes, where it will haunt Democrats and non-Trumpers of all stripes.
Supposedly Kushner put voters in 20 different Google categories, according to their susceptibility to various messages. Wrote Steven Bertoni in Forbes:
"Kushner's crew was able to tap into the Republican National Committee's data machine, and it hired targeting partners like Cambridge Analytica to map voter universes and identify which parts of the Trump platform mattered most: trade, immigration or change.
"But by running the Trump campaign -- notably, its secret data operation -- like a Silicon Valley startup, Kushner eventually tipped the states that swung the election. And he did so in a manner that will change the way future elections will be won and lost."
In other words, Walking Dead viewers were considered anti-immigration, NCIS watchers were seen as anti-Obamacare, etc., etc. The Forbes article observed:
"Soon the data operation dictated every campaign decision: travel, fundraising, advertising, rally locations -- even the topics of the speeches. "He put all the different pieces together," [Trump campaign digital director Brad] Parscale says. "And what's funny is the outside world was so obsessed about this little piece or that, they didn't pick up that it was all being orchestrated so well.
"Kushner structured the operation with a focus on maximizing the return for every dollar spent. "We played Moneyball, asking ourselves which states will get the best ROI (return on investment) for the electoral vote," Kushner says in the article.
The 2011 "Moneyball" film is based on Michael Lewis's 2003 nonfiction book of the same name, an account of the Oakland Athletics baseball team's 2002 season and their general manager Billy Beane's attempts to assemble a competitive team.
"In the film, Beane (Brad Pitt) and assistant GM Peter Brand (Jonah Hill), faced with the franchise's limited budget for players, build a team of undervalued talent by taking a sophisticated sabermetric approach towards scouting and analyzing players."
Obviously, the most susceptible voters to the gut-jerking Trump messages sabermetrically orchestrated by Kushner were in the old Rust Belt states: Michigan, Wisconsin, Pennsylvania, Ohio.
Voters in those states toppled the Electoral College tally like tenpins, sweeping the orange-haired tycoon to what may be the greatest Presidential election upset of all time.
The weeks since the election have raised questions about conflict of interest, foreign intervention, qualifications of cabinet picks, etc., to keep a team of Philadelphia lawyers busy for years.
Key Republican senators John McCain, Lindsey Graham and others upped the ante today on whether Trump will ever see the inside of the Oval Office by calling for an investigation into campaign ties to Russia. Some pundits are asking: "Is impeachment before inauguration possible?"
Unfortunately, all we can do is grin and bear it.
---
"The BUZZ" - Read Feedback From Readers!
sunbeamf Says: On December 13, 2016 at 11:43 AM

And we wonder why people don't take part in the political process!! Why bother when we're just being manipulated by men behind the scenes. We watched the candidates say things without any truth behind them and obviously enough people bought the big lies as truth--after all if you say something long enough it must be true. When will enough be enough--blocking recounts with every legal trick in the book, continuing to deny well known facts--global warming, CIA briefings, etc. I hope the Democrats are taking note of all this and getting their ducks in a row for challenges to the nominated appointments and to the election 4 years down the line.
---

Dave Rogers




Dave Rogers is a former editorial writer for the Bay City Times and a widely read,
respected journalist/writer in and around Bay City.
(Contact Dave Via Email at carraroe@aol.com)

More from Dave Rogers
---
Send This Story to a Friend!
Letter to the editor
Link to this Story
Printer-Friendly Story View
---
--- Advertisments ---