DRED SCOTT STATUE? No, AOL, the Statue Taken Down was Justice Taney
August 18, 2017 3 Comments
By: Dave Rogers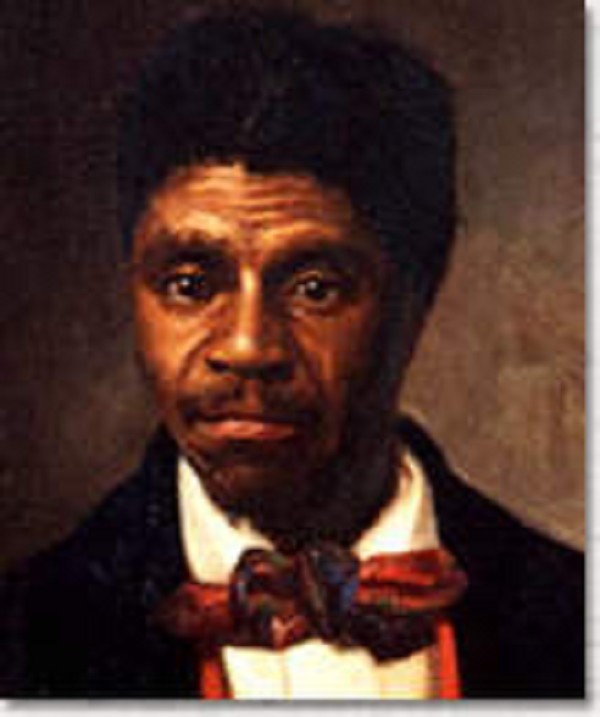 Dred Scott, whose statue was not taken down in Maryland, because there is no statue of him there.
One of the revelations of the current miasma over racism, Nazis, statues of Confederates, etc., is the fact that many Americans don't really know much about history.
This was demonstrated by a startling headline on the AOL news site today: "Dred Scott Statue Taken Down."
How many people knew that the statue removed in Maryland certainly wasn't that of Dred Scott? In fact, chances are slim that there is any statue of the slave at the center of the controversy to his honor anywhere.
Wasn't that the line in a jingle or something: "Don't know much about history, la la, la," that may have been a misplaced boast reveling in anti-intellectualism.
But it doesn't take an intellectual, or a historian, to be a thinking citizen of this nation. It just takes a person reasonably aware of what we have been through since 1776. Sadly, the AOL headline writer apparently had no idea of the history of the Dred Scott decision.
Of course, it was a statue of U.S. Supreme Court Justice Roger B. Tany, whose infamous 1857 decision no doubt helped lead to the Civil War. Tany said Scott "had no rights a white man was bound to respect, could not sue in a federal court and must remain a slave."
My book, "Apostles of Equality: The Birneys, the Republicans, and the Civil War," states that the most inflammatory effect of the ruling "was that Congress could not stop slavery in the newly emerging territories. The ruling defied credibility; even though black men had been voting citizens in five of the original states back to 1776, it said that no slave or descendant of a slave could be a United States citizens or ever had been a citizen."
The book also draws a conclusion that seems to be lonely in the academic world: the Republican Party was galvanized against slavery when it became known that there was a sentiment in the South to make slaves of white working class Americans. The Republican Party made that an early rallying cry for their campaign, helping make it a major political force after only several years of existence -- an unprecedented development.
The fact that Abraham Lincoln, a Republican, was against slavery still is startling to the unschooled masses, including some Washington dunces. A Kentucky newspaper writer told me as much when I made a presentation in Louisville when the book came out in 2011. He said he dare not write about that fact since it would be widely disbelieved among his readers. Obviously, he couldn't portray Lincoln as being against slavery -- that was a, don't say it, LIBERAL stance.
My book explains how the Republicans became ideological turncoats, switching places with the original slavery enablers, the Democrats. No doubt my Louisville newspaper friend would be aghast at that, too.
Today's AOL incident makes it clear that "boobism," as H.L. Mencken, Baltimore sage, quipped, is widespread in this nation of ours. "Boobism," perhaps defined as dumb and proud of it, is rampant in our nation from the White House to the Court House.
Kids today can use cell phones and computers but know little of the knowledge necessary to be thinking citizens.
We have found recently that the political and educational establishment has no fervor for the provision in the Michigan Constitution that "education and the means thereof, shall be forever encouraged" does not mean education just for the elites. It means education for all.
The fact that about 20 percent of students do not finish high school on time, and many never, is blithely ignored. So we start with one-fifth of our citizens unable to qualify for the military, apply for most jobs, or earn decent livings.
One might conclude that all these factors are tied together and contribute to disgraceful displays our forefathers would decry. There you go again, Mr. Rogers, tilting at windmills again!###
---
"The BUZZ" - Read Feedback From Readers!
adamskru Says: On August 19, 2017 at 05:44 PM

I am wondering, now that Taney's statue has been removed, will there be an effort to have the former US Coast Guard cutter (Roger B.) Taney WPG/WHEC-37, presently a museum ship in Baltimore harbor, removed as well. That ship is one of seven 327' 'Treasury' class cutters that fought in WWII and she served up until 1986. Those cutters were named for former Secretaries of the Treasury as the USCG was part of that department until 1967 when it was transferred to the Department of Transportation. The Taney is the last ship afloat that fired shots in defense during the Pearl Harbor attack and served as the command ship for the invasion of Okinawa. She served both in the Pacific and the Atlantic and has been placed on the National Registry of Historic Places. Interestingly, her decommissioning date was Dec 7, 1986...
jttobin Says: On August 22, 2017 at 12:05 PM

Amen - apparently ignorance is bliss. A well written article.
---

Dave Rogers




Dave Rogers is a former editorial writer for the Bay City Times and a widely read,
respected journalist/writer in and around Bay City.
(Contact Dave Via Email at carraroe@aol.com)

More from Dave Rogers
---
Send This Story to a Friend!
Letter to the editor
Link to this Story
Printer-Friendly Story View
---
--- Advertisments ---