Like a Medieval Kangaroo Court, Congress Pillories the Auto Industry
Billions for the Bankers, But Not One Cent for Hard-Working Automakers
November 19, 2008 4 Comments
By: Dave Rogers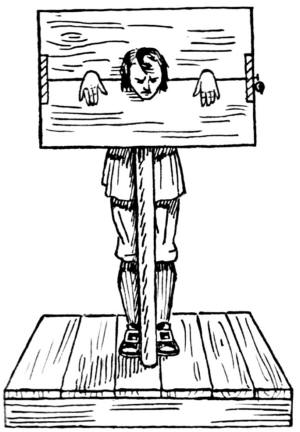 Listening to the Senate Banking Committee's hearings on $25 billion in loans to the auto industry is like a watching medieval court in a bad movie.
Three huge beasts tagged GM, Ford and Chrysler are chained in the arena.
Surrounding are armed guards (U.S. Senators) with huge bloody knives.
"Kill the beasts," says Sen. Bob Corker of Tennessee. "They want to continue to eat even when they aren't working the fields."
"Give them only a cupful of grain a day, they can live on that can't they?" shouts Sen. Bob Casey of Pennsylvania.
"Take a pay cut to $1 a year, just like Lee Iacocco did!" shouts another to the executives.
"Work faster! Work for less! Get more gas mileage!" is the cry all around.
Listening to the Senate Banking Committee's hearings on $25 billion in loans to the auto industry is like a watching medieval court in a bad movie.
You have your court jesters, the King (Sen. Chris Dodd of Connecticut, complete with white crown), your bishop (the professor with the outlandish polka-dot bow tie), your defendant/petitioners, Mullaly of Ford, Wagoner of General Motors and Nardelli of Chrysler.
"You took $200 million from Home Depot, didn't you, Mr. Nardelli," a senator snarls from behind an accusatory finger, dredging up an irrelevancy from the past that goes unnoticed.
And your previously-convicted party, Ron Gettelfinger of the United Auto Workers. All fingers point at him. "He's guilty -- he should die," the accusing parties chant, nodding in unison that the workers make too much money.
"Just let us live until next year, until the sun comes out again," the auto executives plead.
"You'll be back, this won't be the end," growls an unsympathetic senator. "Your sins of the past will follow you to the end of your days."
Sen. Corker of Tennessee, plays the evil prince, demanding the auto companies remove pay for laid off workers (let them eat cake fashion).
Sen. Jon Tester, the rural bumpkin who rode to court on a huge oxen, complains his ox eats too much grain; can you find less hungry oxen? he asks the begowned defendants. (His point, light trucks, which presumably he drives, don't get that much better gas mileage than when he started farming.)
Like education, in which everybody who ever went to school is an expert on schools, apparently everybody who ever drove a car or truck considers themselves an expert on the vehicle industry.
"You're making money overseas; just shift that money here," suggests one out-of-touch senator, who has to be gently reminded that is how business operates and balance has already been achieved.
Screaming in the background as the session breaks up is a shrill-voiced woman "We don't want any corporate welfare; put $25 billion into green jobs."
Meanwhile, in the back room of the castle, fat bankers laden with jewels, sloshing huge goblets of wine as minstrels and dancing girls surround them, carve up the fattened swine -- $700 billion worth.
"We're not sure how to use it, where we'll use it, but we've got it, they drool. Yeah, we've got it. Banks need money, more money, more money . . ."
Will the auto industry be saved? Will it succumb to the foibles of all the king's men? Will it be carved into pieces and thrown to the waiting hungry mouths of the Toyotas, Nissans and Hondas? Never to rise again.
The ultimate irony is splashed across the op-ed page of the New York Times today: Mitt Romney, who probably would be maitre 'd at a Bloomfield Hills restaurant today had not his father George been president of American Motors, trashes the auto industry.
He knows surveys show 80 percent of the buying public wouldn't consider a car whose manufacturer had gone bankrupt, but bankrupt American auto companies is what conservative Romney wants. And that's why his party is clueless. And that's why, Lord willing, he will never be President.
The mantra arises from neocon ranks: Death to the UAW, they had the gall to negotiate good wages and benefits. That money should be going to profligate wastrels so they can pad their golden handshakes. We will not wonder what started it should the revolution come.
Therein lies the problem: hardly anyone is concerned about the common good, about the industrial base of the nation vital to national security, about jobs that are the bedrock of the economy. They all have a demented personal and political axe to grind, both Democrats and Republicans, a pet peeve to sooth, a witchy bitch to scratch. Where are the statesmen? The champions of the American way? The Lincolns who supported the common man in his work, and yes, in his union membership. We all have forgotten what the Republicans originally stood for, and why they became the party of the people, haven't we?
Stay tuned, folks, as the ongoing tragedy of Washington vs. Detroit plays out on the world stage. It is a comedy and a tragedy combined and we, the spectators, can only alternately weep and laugh. Let's hope there's a remote chance we'll all be smiling at the end.###
---
"The BUZZ" - Read Feedback From Readers!
m_pangborn Says: On November 19, 2008 at 06:16 PM

Not residing in the great state of Michigan for quite some time now, I reflect on the decades of economic instability throughout the state which was always directly linked to the automotive industry and Michigans' reliance as a whole for it's growth and employment potential. I can remember quite a few time when UAW and Union strikes affected everyone in a trickel down sort of way. When the "Automotive Giants" stop making cars everything else stops as well. And now these same Giants that made billions during the good times did nothing to plan for the bad times. Now they are asking for money to help continue to run and function on levels that were only periodic boom periods, for the top executives for the most part. maybe it would be in the best intereste for the federal government to turn the other way and deregulate them on a "sink or swim" approach. The state has been held houstage long enough by he "old boy" network and should look to the new more viable ways of creating new employment pathways to those that are willing to make the state of Michigan home instead of a summer get away. I left home for many personal and economic reason and for the most part the reason I reside in Chicago is because of the diversity of economic avaialablity. I will be vacationing in Michigan for the Thankgiving Holiday and will be returning back to where there is a sense of finacial security
wilbert.dunn Says: On November 20, 2008 at 08:50 AM

I totally agree with Mr Rogers comments. Our so called law makers dont have a clue about what is happening in the US Auto industry. Its a shame, and I am totally disgusted with what I am witnessing. What in the world have they been smoking?
bdbpem Says: On November 20, 2008 at 01:02 PM

Dave,
Great observation of the kangaroo court, I also watched the entire hanging. Alleged good servants of the people, those who conducted the court should be ashamed of their conduct.
They forget they drove our nation into the greatest debt the world has ever seen. Yet they continue to take their pay increases and all the perks that go with them. Perhaps the Senate and House Reps. should work for a $1.00 a year until the national debt is paid off, as they suggest the Auto Workers And Auto Management should take concessions.
How easy it is for them to forget the contribution that General Motors, Ford, Chrysler has made to keep America free and proud. For 100 years The Auto Industry made Vehicles and munitions that have been used in every war, especially WWII when G.M. Ford, Chrysler and the United Auto, Airospace and Agriculture Workers Union as well as all heavy industries and all labor unions put contracts and wages and profits on hold to give its all to the war effort. Without their contribution we could not have won WWII.
Now those in congress want to turn their backs on those who need help the most, NOT WALL STREET. Shame on them, They drove the economy into the ground, And thats what drives sales and service. They have all been good representatives of Wall Street and corporate greed as well as FREE TRADE NOT FAIR TRADE TO Mexico, China,Japan, South Korea, India and the rest of the world. Perhaps they should move there seeing they bought and paid for them.
An Observer says: On November 20, 2008 at 01:54 PM

OK, I think the auto industry must be saved. It's a fundamental part of the economy. But I have little sympathy for the CEO's, both at the company and the union level.

It was offensive to hear one of the CEO's, when asked if he'd do the $1 a year package, say "I think I'm OK." The pay scale is completely out of proportion.

The argument that you have to pay multi-millions to attract the best management is a myth put forward by the CEO club. If what those millions purchased is the best and brightest, then this country has a real problem.

I can't totally absolve the union either. They've been feeding at the trough too. I feel for the retirees, but in some ways auto worker benefits relate to other worker benefits the way auto CEO pay relates to rank and file pay.

Bottom line. I'll go along with saving the auto industry, but only with a total restructuring of management. And I'll be happy to see the auto worker retirees protected provided every other retiree gets the same protection!
---

Dave Rogers




Dave Rogers is a former editorial writer for the Bay City Times and a widely read,
respected journalist/writer in and around Bay City.
(Contact Dave Via Email at carraroe@aol.com)

More from Dave Rogers
---
Send This Story to a Friend!
Letter to the editor
Link to this Story
Printer-Friendly Story View
---
--- Advertisments ---