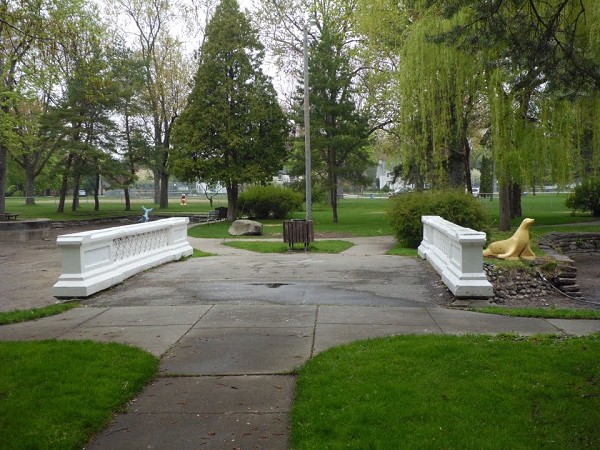 Picturesque stone bridge spans and separates the Carroll Park duck pond and is a favored site for weddings in the park.
---
Historic Carroll Park Set for Another Season Entrancing Residents, Visitors
May 6, 2012 4 Comments
By: Dave Rogers
The beauty and charm of Bay City's Carroll Park has entranced local residents and visitors for nearly 140 years.
But few know the historic connection of the name, Carroll.
Tracing the genesis of the name Carroll Park can be a daunting task. However, the name Carroll is a historic one in the United States and the most famous person who bore it is indirectly connected to the park. The Carroll name is interwoven with the Fitzhughs who were early land speculators and were related through marriage with James Gillespie Birney, abolitionist organizer, twice Liberty Party candidate for President and perhaps our most important past resident.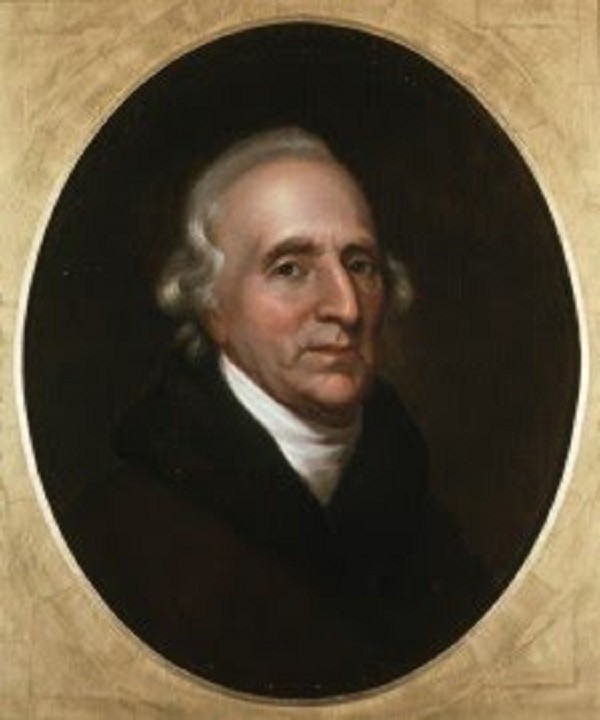 Judge Charles H. Carroll,
former Member of Congress,
was the original owner of the land
that became Carroll Park.
Photo by Dave Rogers
© MyBayCity.com
The name Carroll remotely links Bay City with one of the founders of the nation, Charles Carroll of Carrollton, signer of the Declaration of Independence.
Carroll was the only Catholic to sign the Declaration and when his detractors pointed out there were several persons with the same name, perhaps allowing him to duck blame from the British, he made sure he was identified correctly by adding with a flourish, "of Carrollton." (Carrollton was his magnificent and well-known manor house in Annapolis, Maryland).
Like his father, Carroll was a Roman Catholic, and as a consequence was barred by Maryland statute from entering politics, practicing law and voting. However, he became a member of the Continental Congress and a leader in the fight for colonial independence from Britain.
By an ironic twist of history, Carroll was president of the American Colonization Society who in 1832 signed James G. Birney's commission as agent for the group in the South. Carroll was the last surviving signer of the Declaration, dying Nov. 14, 1832 at age 95 in Baltimore.
William Dana Fitzhugh lived here from 1850 to 1856, he and his wife Anne Carroll were among the founding members of the Trinity Episcopal Church. In 1873, they donated the Carroll Park land to Bay City.
The park was designed by Frederick Law Olmstead, who also created Central Park in New York City, Belle Isle Park in Detroit, the U.S. Capitol grounds and the famed White House Rose Garden. Carroll Park was dedicated in 1875.
James Gillespie Birney, abolitionist political leader and pioneer Bay Cityan, was married to Carroll descendant Elizabeth Fitzhugh and was a historical figure in his own right.
The Birney connection to Bay City is documented in the new book, "Apostles of Equality: The Birneys, the Republicans and the Civil War," published recently by Michigan State University Press.
The History of Bay County by Col. Augustus Gansser, recounts: "Col. William D. Fitzhugh (1761-1839), grandfather of William D. Fitzhugh, with a party of friends including Charles H. Carroll and Nathaniel Rochester, after taking part in the War of 1812, purchased land in western New York's Livingston County, including the city of Rochester that was named for one of the party."
Dr. Fitzhugh was a surgeon in the fleet of Commodore Perry in the Battle of Lake Erie, one of the key engagements of the War of 1812.
The son of Col. William D. Fitzhugh, Dr. Daniel Fitzhugh (1794-1881), married Anne Frisby Dana (1803-1850). In 1834 Dr. Fitzhugh came to the territory of Michigan with Judge Charles H. Carroll and purchased large tracts of land including many acres in the rich Saginaw Valley.
"In 1873, Mr. and Mrs. Fitzhugh deeded to the city a valuable tract of land to be used for a public park," according to Gansser. "This land was formerly owned by Judge Carroll, her father, and was presented to her by him. In turn she gave it to Bay City, under the name Carroll Park..."
The Congressional Biographical Guide states: "Charles Holker Carroll, a representative from New York, was born at Hagerstown, Maryland, May 4, 1794; was graduated from St. Mary's College, Baltimore, in 1813; moved to Livingston County, New York; studied law but never practiced; engaged in agricultural pursuits; land agent; supervisor of Groveland, Livingston County; county judge 1823-1829; served in the State Senate 1827-1828; member of the State assembly 1836; elected as a Whig in the 28th and 29th Congresses, 1843-1847; Presidential elector on the American Party ticket in 1856; died in Groveland, N.Y., June 8, 1865; interment in Williamsburgh Cemetery."
Judge Charles H. Carroll was the great-grandson of Daniel Carroll, cousin of Charles Carroll of Carrollton, signer of the Declaration of Independence.
Carroll Park is located on the northeast corner of Groveland Road and Park Avenue.
The 13.7-acre park is the oldest platted park in the city and was established in 1875. The unique features of the park include a duck pond and bridge. The park contains a large stand of old maple and oak trees.
The park is bordered by historic homes and can be accessed by the Riverwalk/Railtrail loop. Park facilities include playground equipment, a baseball diamond, tennis courts, a pavilion and picnic areas.
That pretty standard story is published on the website of the City of Bay City.
Let's update and enhance the story here in this column.
Marv Kusmierz of Bay Journal.com, presents this aspect of the park's history from the Daily Tribune of Nov. 8, 1884: (note: many streets are mentioned that no longer exist)
"The most important park, if not the most valuable in the pecuniary light, is Carroll, donated the city by Mr. Fitzhugh, which lies east of Carney road and north of Center street.
"It can be entered on the west by Fourth or Third streets. It is an angular shaped piece of property containing 15 acres or thereabouts. The Michigan Central railroad curving to the right forms the northern and eastern boundary.
"It is supplied with four boulevards and other driveways. A boulevard has been opened and graded this season to Center street by the way of Ringgold street, the most easterly throroughfare in the Second ward.
"Opening on Center street, west of Ringgold street, are two boulevards leading to Center street. On the opposite side of Center these boulevards are continued to Twelfth street, and are known as Green avenue, names after the Hon. S.M. Green who donated the property to the city.
"The drives have been lined with shade trees, and only time is required to bring them out in verdure and beauty and give to the avenue a most handsome and picturesque appearance.
The park itself is also furnished with shade trees, recently planted, besides those which grew wildly without the attention of human hands. The grass and sod is yet of wild nature, and requires a few years' of labor to be brought down to a condition of "tameness."
"At the Center street opening of the park opposite Green street avenue is an oddly shaped monument built of stones picked from the park. At its base is a circular flower bed, and up its sides plants and flowers are growing. Its eccentricity makes it attractive.
"North of the railroad in Carroll park plat City Surveyor Turner has recently laid out or extended six thoroughfares, namely, Florence, Helen, Duplante, Anne, North and Livingston. They are "short and sweet" so to speak, being studded on the sides with beautiful maples, elms, oaks and other forest trees.
"During the past summer, Carroll park has been the scene of several picnics and pleasure gatherings of the city folks. Being so near the residence portion of the city, it is very handy and businessmen and families can take their noonday meals there without the loss of much time."
Mr. Kusmierz has documented the connection of the Fitzhugh family to Bay City as follows: (note the familiar names from streets here that have their roots in the Fitzhughs' home of Livingston County, New York as well as the Anne Frisby Fitzhugh Chapter of the Daughters of the American Revolution)
1794 -- Daniel H. Fitzhugh, birth, Maryland.
1817 -- Dr. Daniel H. Fitzhugh; moves to Groveland, Livingston Co., NY, with parents.
1820 -- Dr. Daniel H. Fitzhugh; marriage to Anne Frisby Dana.
1835 -- Dr. Daniel Fitzhugh begins acquiring land in Michigan, mostly in the Saginaw Valley.
1837 -- Michigan becomes a state.
1840 -- Dr. Daniel Fitzhugh and James G. Birney visit Saginaw Valley, Birney buys land on west side of river, opposite Lower Saginaw.
1842 -- Dr. Daniel Fitzhugh joins partnership with James G. Birney and James Fraser to take over the Saginaw Bay Company that originally platted Lower Saginaw.
1843-- Son, Daniel H. Fitzhugh, Jr., moves to Lower Saginaw and builds house on the corner of Third and Waters streets, only the 11th home at that time.
1846-- Son, Daniel H. Fitzhugh, Jr., leaves Lower Saginaw and returns to NY.
1849 -- Son, William D. Fitzhugh moves to Lower Saginaw and occupies house built by his brother, Daniel, in 1843.
1856 -- Son, William D. Fitzhugh leaves Lower Saginaw and returns to Livingston Co., NY.
1856 (abt.) -- Son, Charles C. Fitzhugh leaves NY and moves to Lower Saginaw.
1881 -- Dr. Daniel Fitzhugh dies.
###
---
"The BUZZ" - Read Feedback From Readers!
neal.moore Says: On May 08, 2012 at 01:50 PM

I was born and raised in Bay City, on Fifth Street, between Park and Trumbull, graduated from B. C. Central in 1959. I moved away to go to college and have wished to have moved back ever since. A good friend of mine keeps me in touch with my beloved neighborhood and, through your article, has enriched my knowledge of one of the most beautiful parks I have ever known. Thank you. Neal F. Moore
Johndkerr Says: On September 06, 2016 at 05:37 PM

Regarding the statement that Carroll Park was designed by Frederick Law Olmstead, I checked with the Frederick Law Olmstead Society and they have no record of Mr. Olmstead designing anything in the Bay City area. They said many communities lay claim to his work but not all such claims are accurate.

I'm wondering if there is any documentation to back up the claim that he designed Carroll Park? It would be great if it were true, but I suspect it is just a bit of local folklore.
---

Dave Rogers




Dave Rogers is a former editorial writer for the Bay City Times and a widely read,
respected journalist/writer in and around Bay City.
(Contact Dave Via Email at carraroe@aol.com)

More from Dave Rogers
---
Send This Story to a Friend!
Letter to the editor
Link to this Story
Printer-Friendly Story View
---
--- Advertisments ---