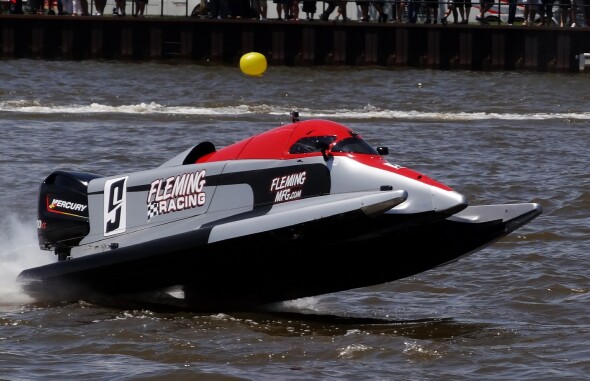 River Roar 28 In Pictures
Bay City's 28th annual River Roar powerboat races is in the history books. Saturday was something of a washout with high winds and impending storms. But the organizers made up for it on Sunday with great races in perfect weather!
As always there was something for everyone: fast boats, great weather for walking the river front, music in the band shell, face painting, and carnival food!
The races were a great success, according to committee member Eric Jylha. "There were no serious accidents or injuries, fights or crowd problems. The weather was great and everyone just had a good time!" This is what brings the racers back to Bay City year after year. You could hardly ask for a better venue!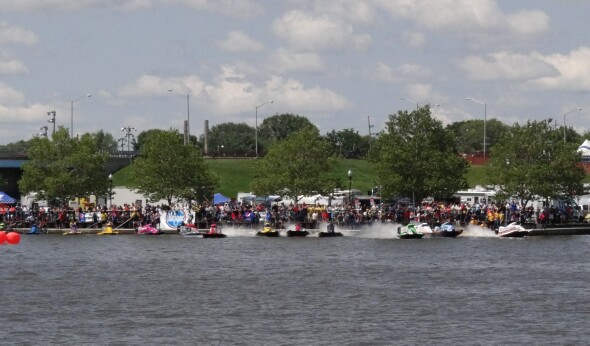 Each start is exciting as the boats scream out directly at the East side audience.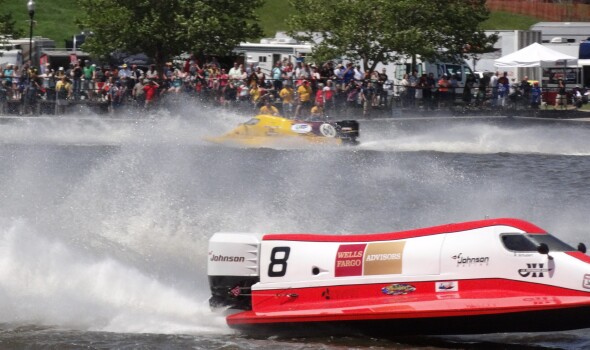 As the pack spread out there was always something happening in front of the crowd.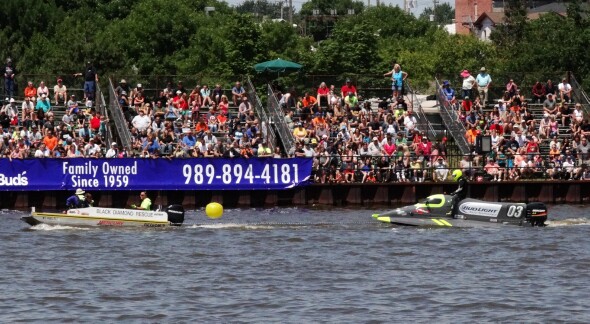 A disabled boat paused the race until it could be towed off the course.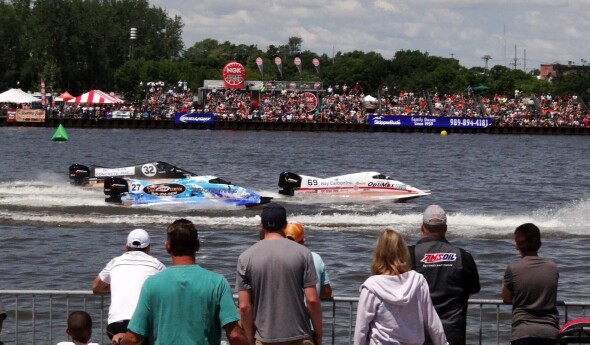 This year the organizers tried running restarts.
Boats got into position and were led down the track by a jetski.
Before they took off it gave the spectators a great parade of boats.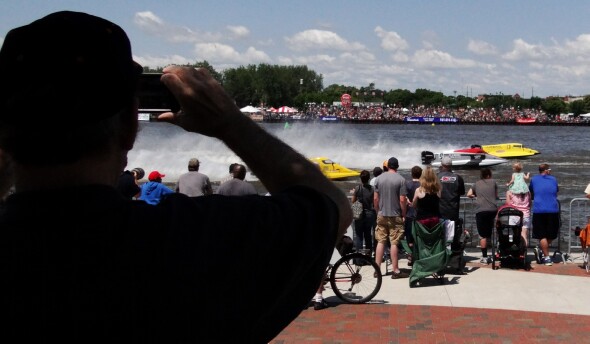 Lots of people were taking phone shots.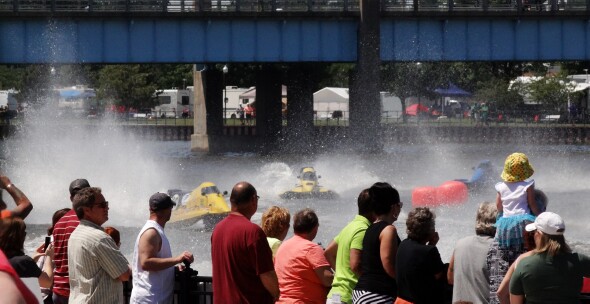 Bay City is famous for the great, up-close views.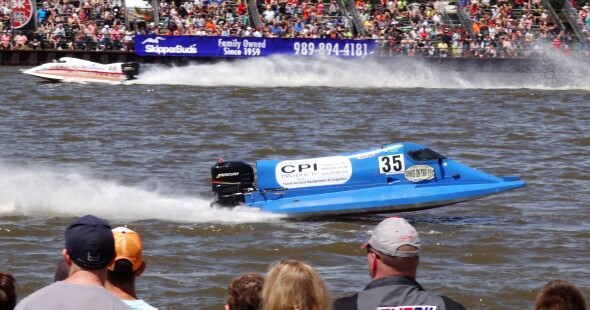 Comin' and a-goin'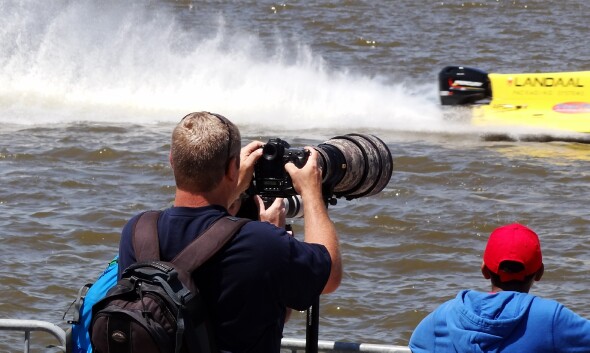 HEY! MyBayCity.com ought to buy me a rig like that, doncha think?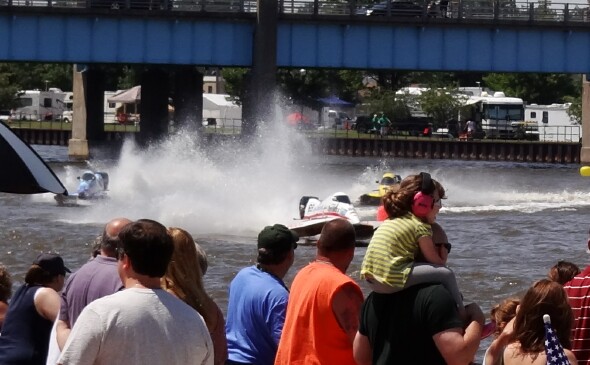 Now that Dad has the right idea for his youngster: hearing protection!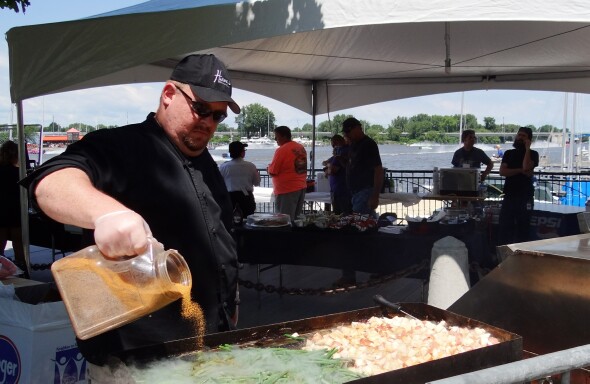 Sprinkling seasoning on the green beans and potatoes cooking in the Chemical Bank VIP tent.
When we commented how good it smelled when taking pictures from downwind,
the cook laughed and said "we call it chumming".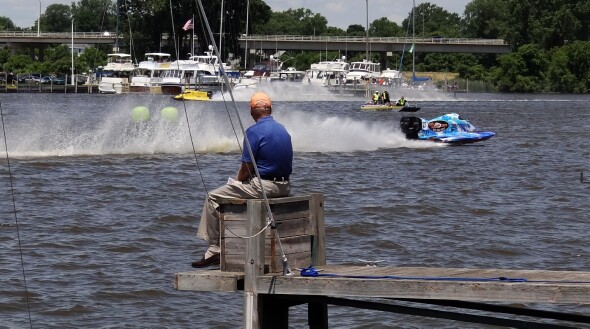 Sittin' on the dock of the ... river?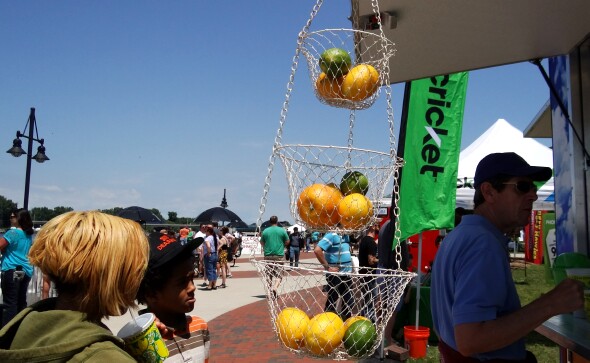 Lemonade is just the thing on a sunny afternoon.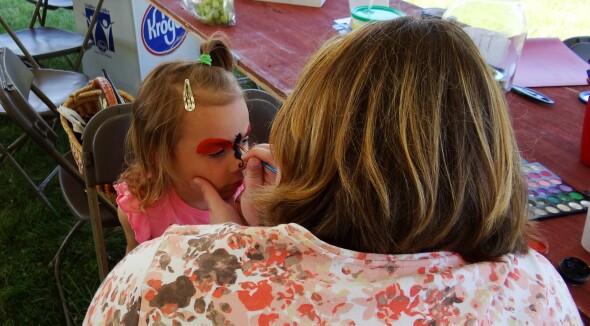 Kelley Kent, organizer of the "Haunted Masonic Temple's" makeup crew, "Face the FX",
does free face painting in Bay City's a.la.cARTe arts and culture coalition tent.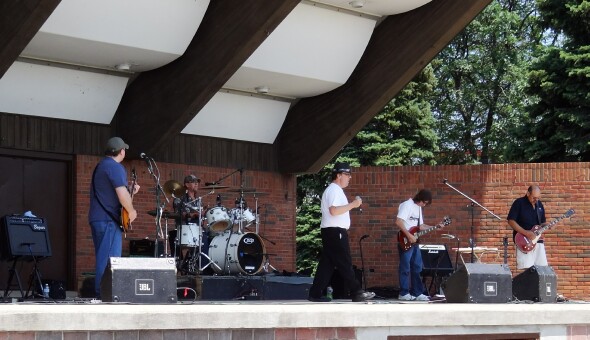 Bay City's "Sound Proof" band played the entire time on Saturday.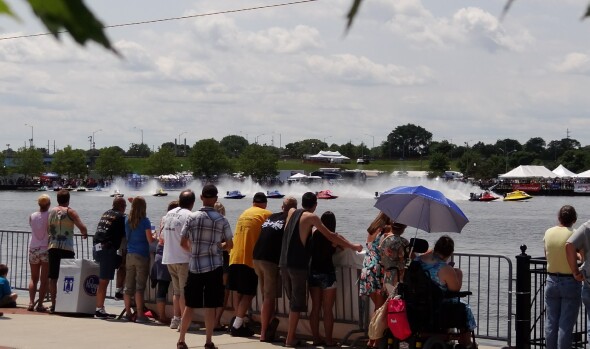 Another start and the boats are screaming off.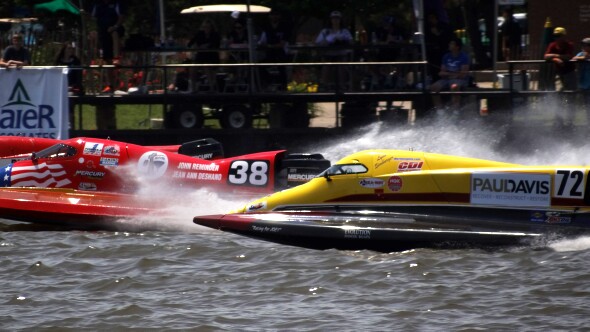 Three boats in a tight race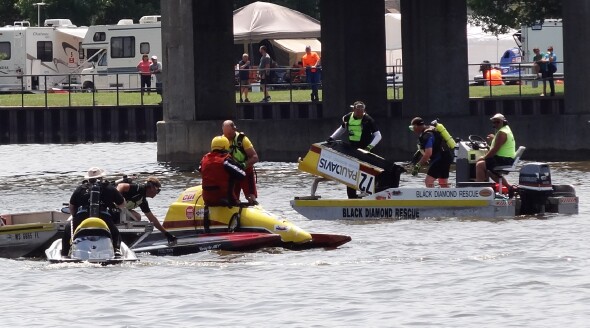 Black Diamond Rescue's professional crew is ready for anything.
In this case it's pretty easy. The boat is messed up, but the driver is fine.
This may be the, almost serious, accident where the boat did about three barrel rolls...
The driver was not hurt!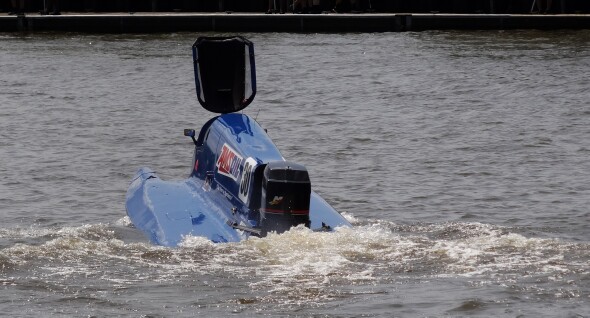 The number 30 boat waits mid-river as the rescue crew clears the disabled boat.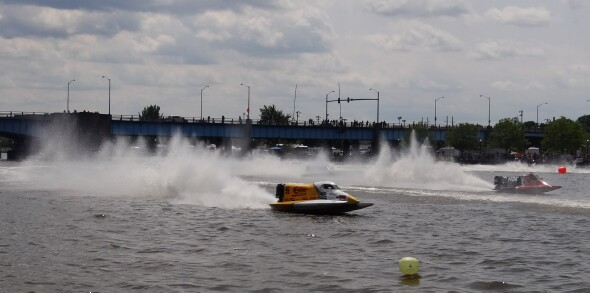 Neck and Neck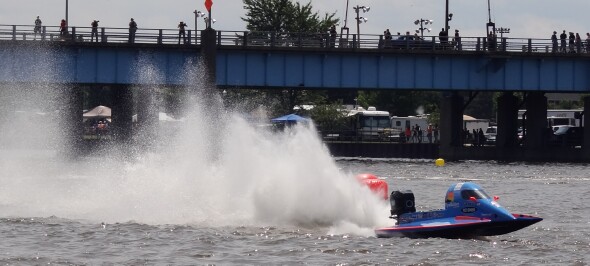 Running Topless after his cowling blew off coming around the South turn.
Hard to keep the pooch out of the nice cool fountain.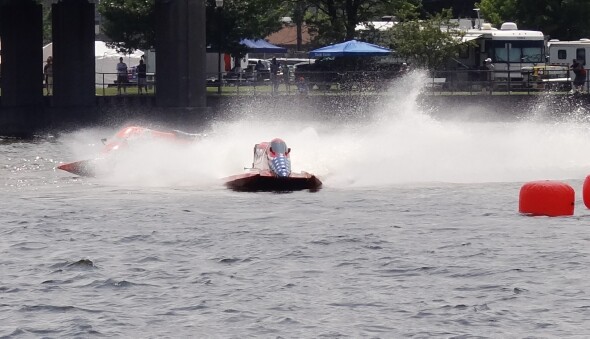 Making the very tight turn. We heard the "G" forces are significant.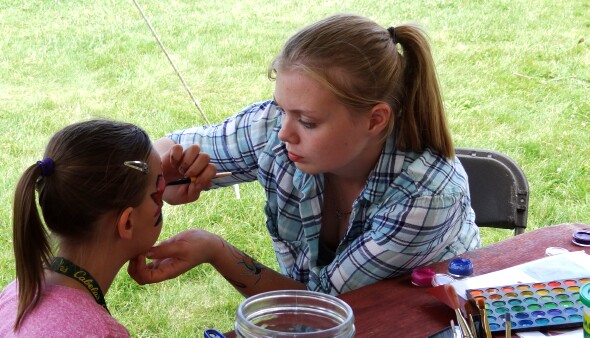 Rebecca Willet does free face painting in Bay City's a.la.cARTe arts and culture coalition tent.
Rebecca is a member of "Face the FX", the makeup crew of the "Haunted Masonic Temple",
which is presented each October in Bay City.
---
River Roar Articles over the years
2015 River Roar In Pictures
06-27-2015 Bay City River Roar 2015
04-28-2015 Bay City River Roar One Day Ticket Sales Will ROCK and ROAR!
04-12-2015 Bay City River Roar 2nd Annual Springfest
06-29-2014 Bay City River Roar ROCKS
06-27-2014 River Roar Midland Street Pub Crawl
06-13-2014 River Roar Hits Bay Valley Golf Course
03-19-2014 Bay City River Roar Announces 1 Day Ticket Sale on May 3
03-19-2014 Bay City River Roar Announces 1 Day Ticket Sale on May 3
03-04-2014 WINE about Winter and CHEER About Beer Event to Benefit River Roar
06-24-2013 River Roar 2013 Enters Record Books
06-22-2013 Bay City Roar Rocks Another Year of Concerts
06-20-2013 26th Annual River Roar Headlines Big Weekend!
04-12-2013 River Roar Announces 2013 Concert Line-up
06-24-2012 25th Annual River Roar In Downtown Bay CIty
6-24-2012 The Weekend Place To Be Bay City's 25th River Roar!
06-24-2012 River Roar Pub Crawl
04-29-2012 Kroger Food Can Be Used For River Roar Event Entry
03-22-2012 Bay City Dow River Roar Announces Concert Line Up
06-26-2011 2011 Dow River Roar's High Speeds, Sharp Turns Make for Thrilling Weekend in BC
June 27, 2010 River Roar 2010 Damp But Great Fun
July 5, 2009 DOW River Roar Review
June 28, 2009 River Roar 2009 Delights Crowds
April 15, 2009 Gearing Up For 2009 DOW RIVER ROAR Dow Title Sponsor for 2nd Year
June 26, 2008 PHOTO GALLERY RIVER ROAR WEEKEND IN BAY CITY JUNE 2008
June 22, 2008 Ratt & Roll & River Roar -- With Special Guest Jackyl
June 22, 2008 River Roar Makes Waves
In the Pits with Rinker Racing and Team AMSOIL Rinkers Finish 7th and 8th in Champ Boat River Roar Finale June 24, 2007 In the Pits with Rinker Racing and Team AMSOIL 2007
June 24, 2007 You Know It's Summer In Bay City When . . . THE RIVER ROARS! 2007
June 24, 2007 Poison & Ted Nugent Rock the 2007 River Roar in Bay City
June 25, 2006 19th Labadie River Roar Highlight of Weekend 2006
June 26, 2005 RIVER ROARS FOR 18 YEARS - 2005
June 27, 2004 Bay City River Roar # 17 - 2004
June 26, 2004 River Has Been Roaring for A Century in Bay City
June 23, 2004 READY TO ROAR! - 2004
June 22, 2003 River Roars on First Day of Summer 2003
July 1, 2002 RiverRoar 2002!
---
---

Stephen Kent




Steve Kent and his family have lived in Bay City for 40 years. He is VP of Technical Services at MMCC which produces MyBayCity.Com. Kent is active in many Bay City civic organizations.

More from Stephen Kent
---
Send This Story to a Friend!
Letter to the editor
Link to this Story
Printer-Friendly Story View
---
--- Advertisments ---






0200 Nd: 02-14-2020 d 4 cpr 0






SPONSORED LINKS
---
LOCAL LINKS
(Ads not affiliated with Google)
---
---
---
---
---
---
---
---