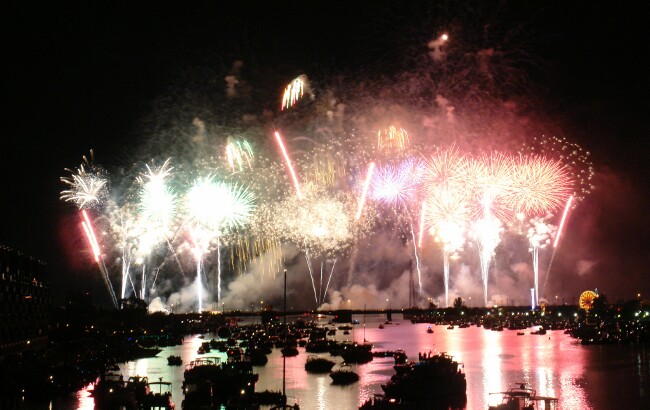 City Pulls Out All The Stops for Fireworks Spectacular
---
50,000 Shells In 50 Minutes - Bay City 50th Year Fireworks
July 8, 2012 1 Comments
By: Stephen Kent
After a week of record setting heat throughout the middle of the country, Saturday the 7th turned out to be perfect for Bay City's Grand Finale to the 2012 Fireworks Festival. The temperature came down, along with the humidity. The skies were clear, and a light breeze pushed the smoke away from the fireworks.
This was the 50th year for the 3 day show and the sponsors and committee pulled out all the stops. They shot off 50,000 shells in 50 minutes!
Unlike all previous years, the organizers used the Veteran's Memorial Bridge in the center of town to open the show with a fountain of fire. That meant the bridge was closed, which made traffic more "entertaining" on the other bridges.
The crowds began arriving in mid-afternoon as always. By 5:00 the roads were packed as people flocked to the middle of town. All of the parks, bridges, lawns and buildings were packed with people.
The show certainly lived up to expectations. It was non-stop from about 10:10 until the end at nearly 11:00. MyBayCity took hundreds of photos again this year. Unlike other years, though, we also took videos. Check the YouTube video below of the finale. It's worth the time!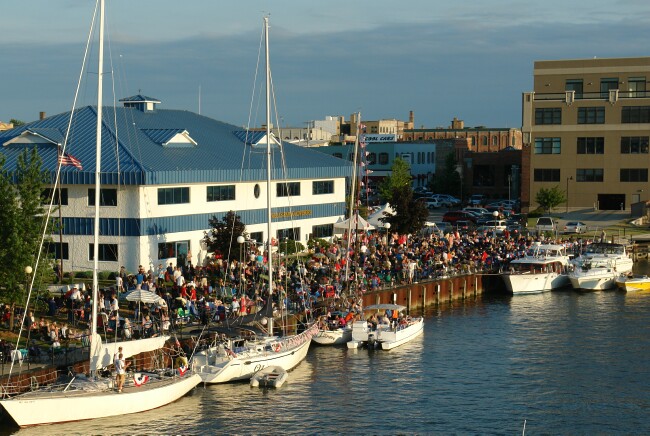 Crowds of people filled the parks, the lawns, and condo balconies.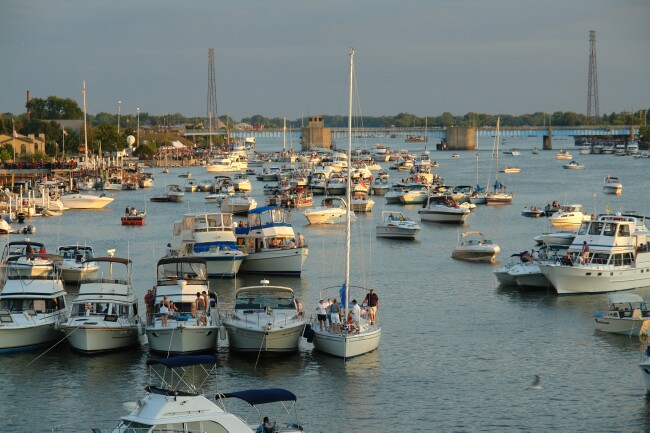 Boats lined both sides of the river leaving a path for navigation in the middle.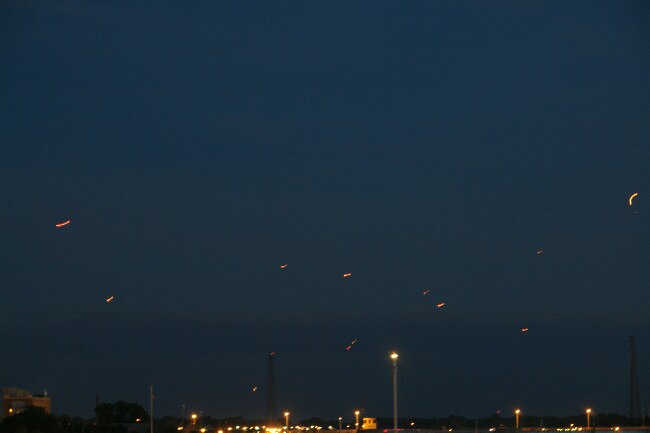 As 10:00 pm approached dozens of hot air balloons filled the sky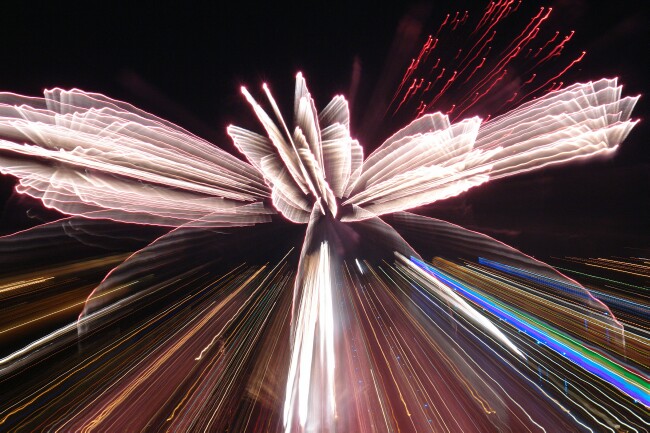 The butterfly effect of zooming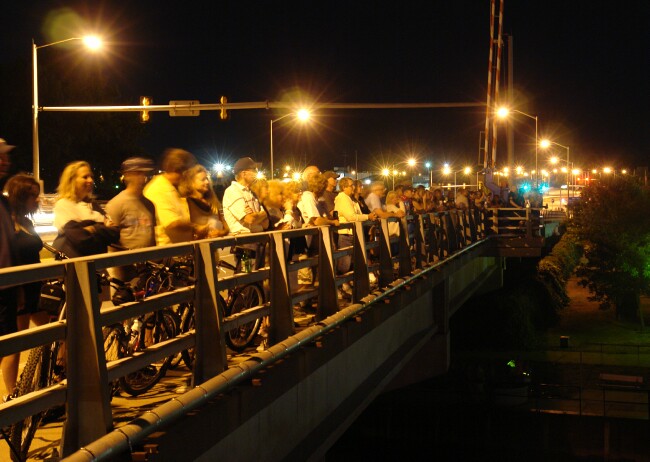 Liberty Bridge was lined with people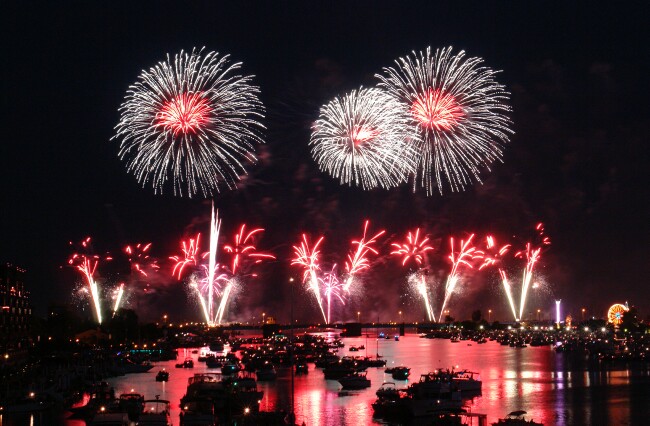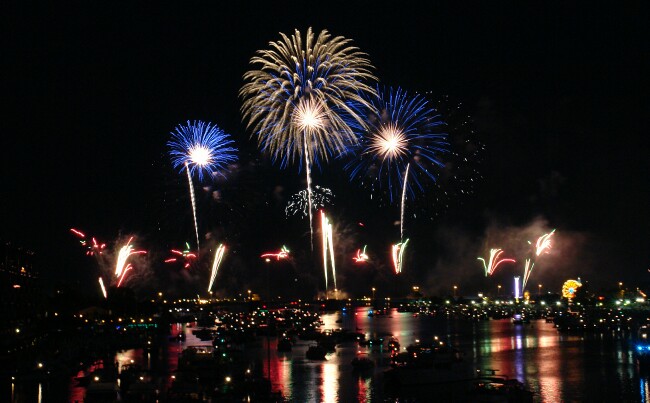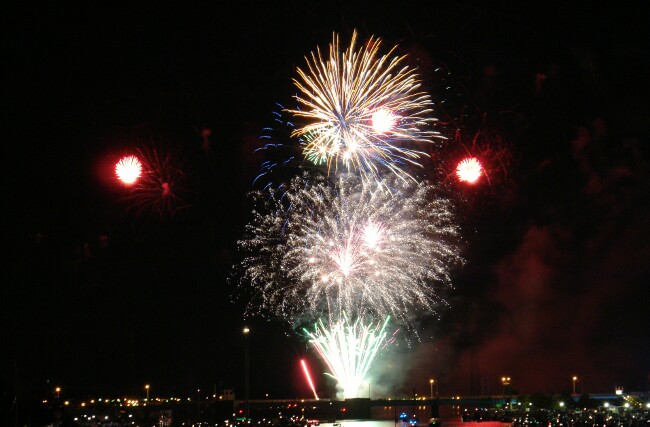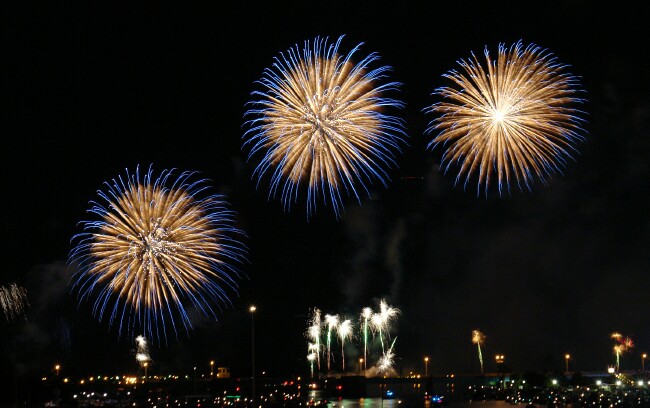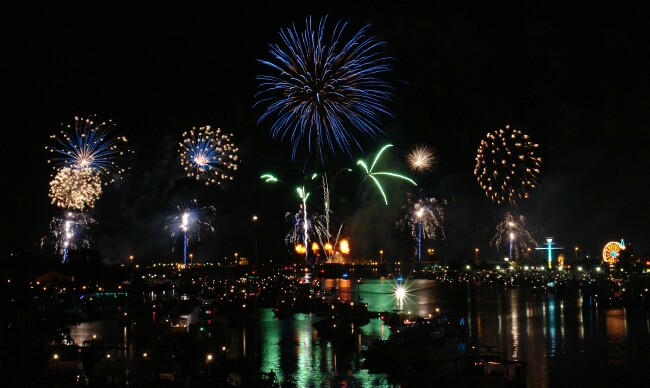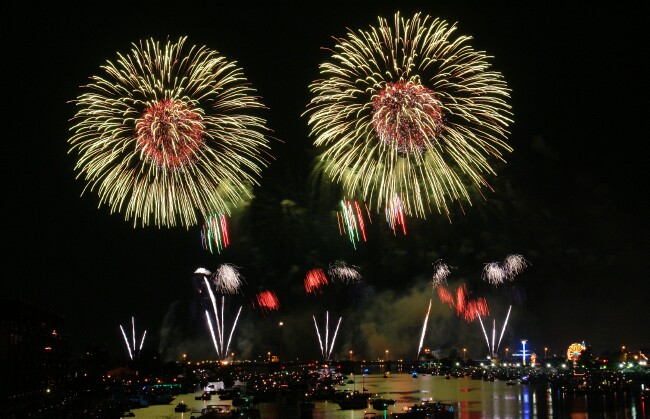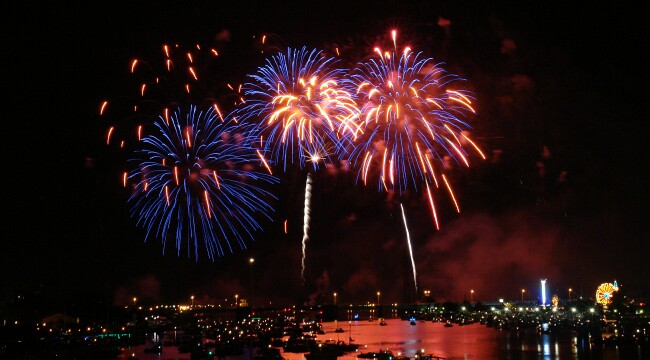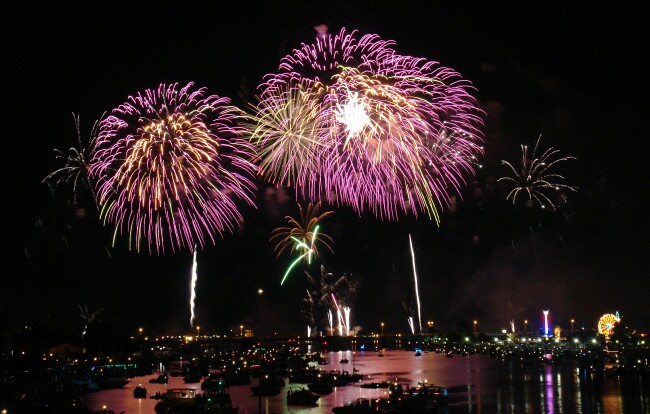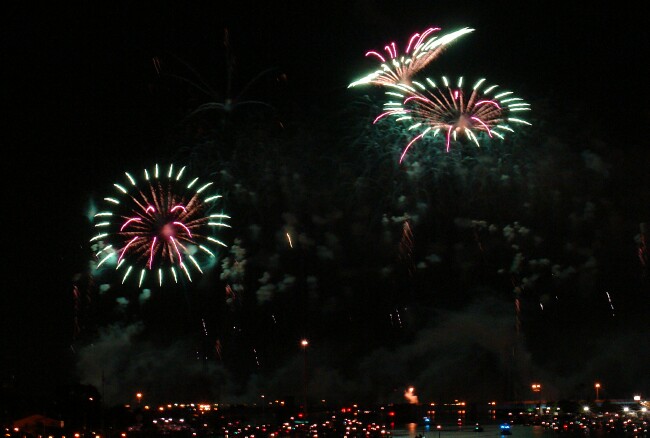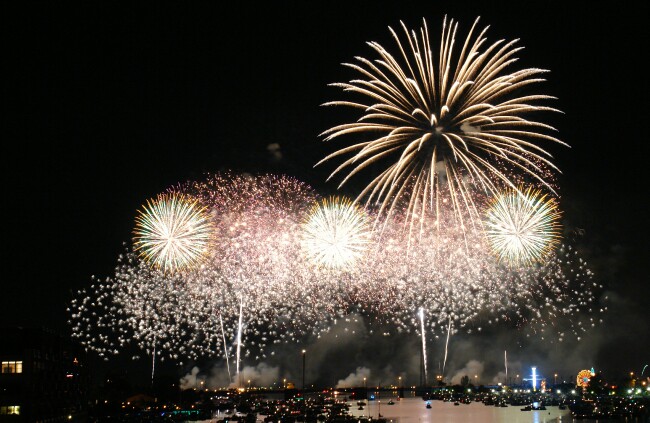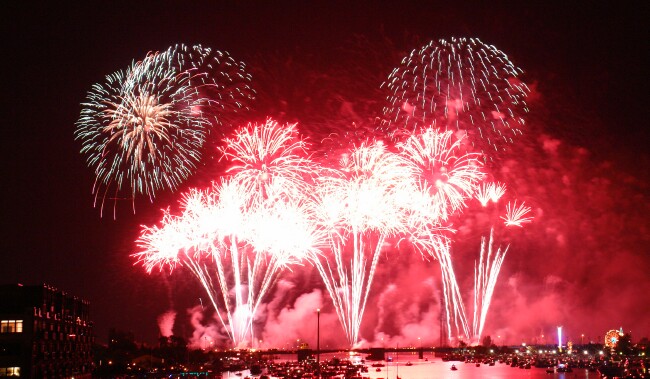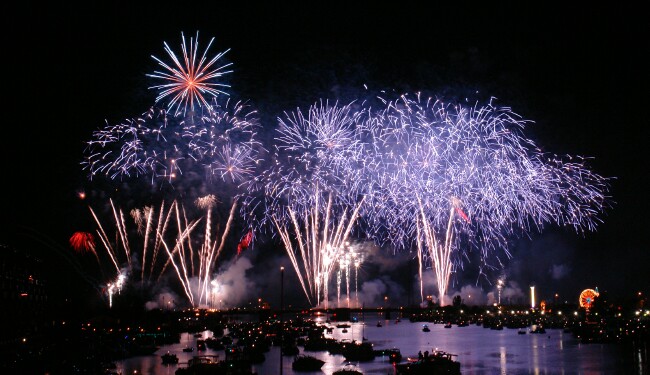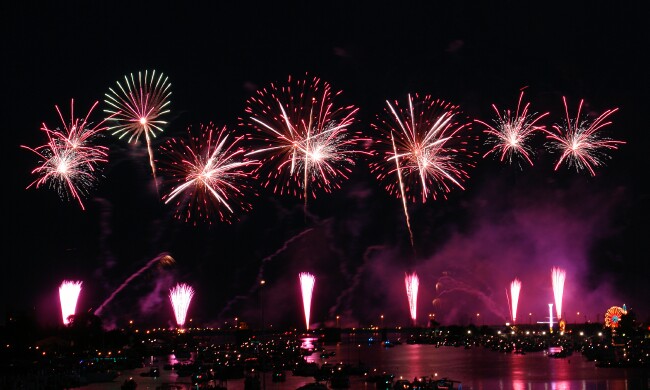 ---
Fireworks
July 2015 Kicks Off With First Of Three Nights Of FIREWORKS
More 2014 Bay City Fireworks Photos!
Bay City Fireworks Festival 2014 - Faces and Fun
Bay City Fireworks Festival Schedule 2014
2013 Fireworks - Three Nights of BOOM!
50,000 Shells In 50 Minutes - Bay City 50th Year Fireworks
Patriotic Music to Kick Off Bay City 2012 Fireworks Festival
2011 Bay City Saturday Fireworks - A Pictorial Event
By: John Keuvelaar
2011 Bay City Fireworks Finale Video
By: Julie McCallum
First of Three Nights of Fireworks - 2011
By: Steve Kent
Bay City Fireworks Finale 2010
By: Julie McCallum
Afternoon BEFORE The Fireworks Just As Much Fun - 2010
By: Steve Kent
Fireworks Spectacle In Bay City - 2010
By: Steve Kent
Local Fireworks Tradition Is Fueled by Volunteer Efforts
2009 Fireworks video by Andy Rogers
2009 Fireworks Spectacular! with video
Annual Fourth of July Fireworks Better Than Ever - 2009
Bay City Celebrates The Fourth, 2008
Bay City Fireworks Weekend In Pictures! 2008
Bay City Fireworks Spectacular Kicks Off Fourth 2007
Bay City Blast Off With Annual Fireworks Spectacular 2007
Blowing Stuff Up. What Could Be More Fun? Bay City's Polish Pyros Light Up Shows All Summer Long 2006
Bay City 4th Photos 2006
Bay City's Fourth - More Than Just Fireworks 2005
40 Years of Bay City Fireworks Festivals 2004
Terry Watson's Most Intrepid Fireworks Fundraiser Almost Cost His Life 2004
Bay City Celebrates the Fourth! 2003
---
---

Stephen Kent




Steve Kent and his family have lived in Bay City for 40 years. He is VP of Technical Services at MMCC which produces MyBayCity.Com. Kent is active in many Bay City civic organizations.

More from Stephen Kent
---
Send This Story to a Friend!
Letter to the editor
Link to this Story
Printer-Friendly Story View
---
--- Advertisments ---